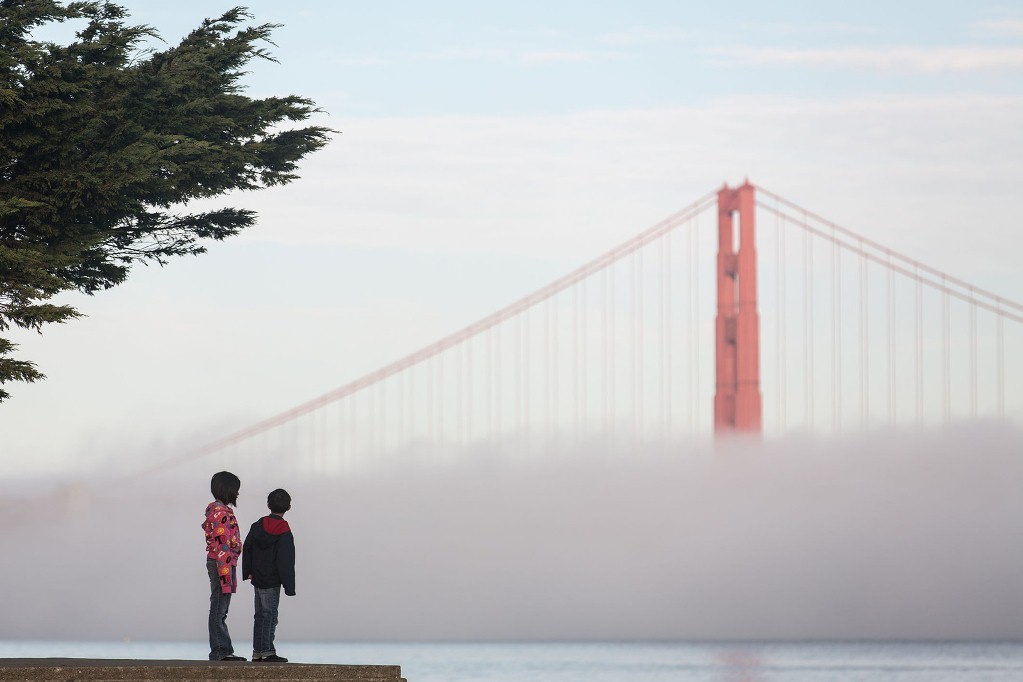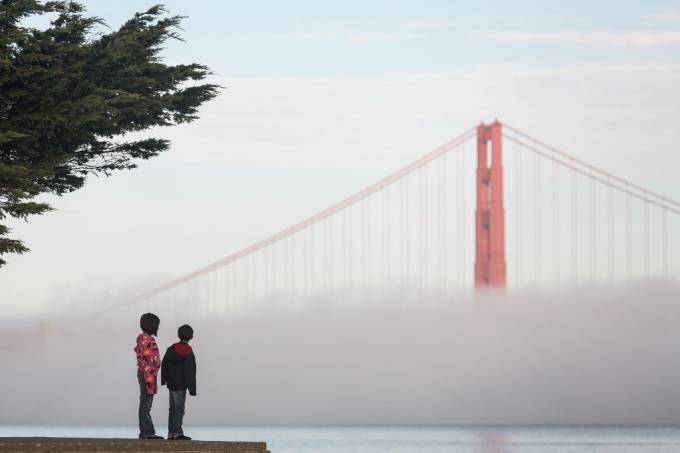 O mundo, você sabe, está ficando cada vez mais igual. As grandes cidades exibem os mesmos logotipos, os mesmos executivos de terno, os mesmos modelos de carro, as mesmas aspirações. Mas, na Península de San Francisco, na Califórnia, uma aldeia resiste. "Aldeia", sim. Nenhuma outra grande cidade da Terra é tão pequena quanto San Francisco. Seus 800 mil habitantes espremem-se num quadrado de pouco mais de 10 por 10 quilômetros. Tão pequeno que, com disposição e uma bicicleta alugada, é possível pedalar num só dia ao redor da cidade inteira. Mas, por menor que seja, San Francisco ocupa um espaço enorme no imaginário da humanidade. A cidade é a maior produtora de utopias, de sonhos e de contraculturas que existe no mundo, a maior exportadora de terapias alternativas, de esquisitices e de ativismo. Se há poder, San Francisco é contra. Foi lá que floresceu o movimento beatnik dos anos 1950 e 1960, no qual escritores "malditos", como Jack Kerouac, Allen Ginsberg e William Burroughs, subvertiam a literatura e descreviam o submundo dos bêbados, drogados e prostitutas. Foi lá também que aconteceu o "verão do amor" de 1967, o estopim do movimento hippie e da cultura da maconha e do LSD. Como dizia a velha canção: "Se você vai a San Francisco, não se esqueça de colocar flores no cabelo".
Também em San Francisco os homossexuais inventaram a ideia do "orgulho gay", ganharam visibilidade e se uniram ao redor da figura carismática do político Harvey Milk, que acabou assassinado. A cidade é pioneira dos movimentos de defesa do espaço urbano, há décadas lutando – e vencendo – para evitar que a cidade seja dominada pelo automóvel e sua cultura. Por sua posição avançada no Pacífico, tem sido também a porta de entrada do Ocidente a todo tipo de doutrina, terapia ou tradição asiática, como a ioga, as artes marciais, o budismo e o taoísmo. Só em San Francisco o prefeito consegue passar uma lei em flagrante desafio ao governo federal que legaliza o casamento gay em seu território. Mas… O prefeito legisla sobre casamentos? Não devia cuidar das calçadas e da coleta do lixo? "Não em San Francisco", me disse uma vez Gavin Newson – o prefeito. "Aqui, parte do meu trabalho é manter vivas as utopias. San Francisco tem uma responsabilidade com o mundo."
Não tente achar em San Francisco algum monumento que explique esse seu espírito. Não há lá nenhuma Estátua da Liberdade orgulhosa, olhando o mundo de cima, diminuindo cada um de nós. O espírito da cidade está pelos cantos – nas mesas dos cafés, nos gramados dos parques, nas prateleiras das livrarias, nos balcões de bar. Isso não quer dizer que esse espírito seja sutil, longe disso. San Francisco não é dada a sutilezas. Prova disso são as ruas famosas da cidade, cada uma delas um ícone.
Tem a Haight Street, a meca hippie do planeta, com suas lojinhas de acessórios para maconheiros e seus velhos hippies segurando cartazes de "Me dê 1 dólar para comprar maconha" (a erva é proibida nos Estados Unidos, mas a polícia faz vista grossa em San Francisco, e qualquer californiano pode tirar uma carteirinha de "uso médico" para consumir a droga legalmente). É na Haight que fica a sensacional e histórica Amoeba, a loja de discos com a qual você sonhou a vida inteira – independente, barateira e gigantesca. É lá também que ficam dois irmãos: o café Red Victorian, com sua mesa comunitária para incentivar desconhecidos a conversar, e o cinema Red Vic, que, além de poltronas individuais, tem sofás para duas ou três pessoas, num tributo ao amor livre que fez a rua famosa. A Haight desemboca no Golden Gate Park, com suas rodas de batucada.
Tem também a Castro Street, desvairadamente gay, com sua gigantesca bandeira de arco-íris, em que não é incomum ver homens nus caminhando (um dia vi um casal de fortões, com tanguinha fio-dental de couro, de mãos dadas). Na Castro está o cinema de mesmo nome, uma velha sala adornada com um candelabro impressionante, cujas sessões são abertas por um pianista que toca ao vivo. O cinema tem uma programação especial criada para agradar o público local: um dia estava em cartaz uma versão legendada de A Pequena Sereia – uma bolinha ficava pulando sobre a letra das músicas para o público cantar junto.
Tem também a 24th Street, latina e tradicional, com seus cabeleireiros e padarias mexicanos e sua vida comunitária. E a Valencia Street, roqueira e moderninha, com seus sushis vegetarianos (berinjela no lugar do atum), brechós e clubes de rock indie. A Valencia cruza com a 24th no coração do bairro de Mission, misturando roqueiros cobertos de tatuagens com matronas hispânicas que se comunicam aos gritos. Os dois grupos se alimentam de burritos, que são uma espécie de PF mexicano enrolado numa tortilha gigante.
E há também a Columbus Avenue, vizinha do bairro chinês (Chinatown), pertinho do Caffe Trieste, onde velhinhos italianos discursam sobre suas convicções anarquistas enquanto ouvem jazz ao vivo. É na Columbus que fica a City Lights, a livraria-símbolo do movimento beatnik, fundada e até hoje comandada pelo último sobrevivente do movimento, o poeta Lawrence Ferlinghetti. Em frente à City Lights, como não poderia deixar de ser, há um bar escuro e gordurento (o Vesuvio), onde se pode tomar um porre de bourbon com a desculpa de ser um "programa cultural".
Cada uma dessas ruas é um símbolo. De cada uma delas emanam ondas de contestação, de transformação, que atingem o mundo inteiro. Difícil lembrar de algum movimento de contracultura dos anos 1950 para cá que não tenha sido em grande parte formulado em algum desses endereços.
Resistência em duas rodas
Mas há quem diga que esse espírito contestador é coisa do passado. Que os tempos dos beatniks, dos hippies e do movimento gay já ficaram para trás. Que a cidade, tomada pelos milionários do Vale do Silício e da nova economia, hoje é yuppie e comportada e que foi domesticada para receber os turistas. Mentira. O espírito continua lá. Para encontrá-lo, é preciso saber procurar. Um bom lugar para começar é a pracinha em frente ao Ferry Building, no cruzamento da Embarcadero com a Market Street, às 6 da tarde da última sexta-feira de cada mês. É lá que os ciclistas de San Francisco se encontram há 18 anos para tomar a cidade, num movimento divertido e anárquico, a Critical Mass. Não perca se você estiver por lá num fim de mês. Você vai precisar de uma bicicleta, o que não é nenhum grande problema. Elas são facilmente alugáveis em lugares como a rede Blazing Saddles, com unidades em vários pontos turísticos. Ou melhor ainda: você pode fazer um amigo local e perguntar se ele conhece alguém que possa emprestar ou alugar a bike. O povo de San Francisco tende a ser generoso.
A Critical Mass começa com centenas de ciclistas se reunindo na praça. Depois de um tempo, todos começam a buzinar, e aí saem pedalando pela cidade, parando o trânsito. Muita gente usa fantasia, uns nada usam, há música ao vivo (meu artista preferido lá é Fossil Fool, que pedala puxando um equipamento de som enquanto canta num microfone, com a namorada na garupa tocando maracas. Haja fôlego). É uma grande festa móvel. A polícia não gosta muito, e alguns motoristas ficam chateados. Mas, no geral, a cidade já se acostumou à invasão mensal das bicicletas e muita gente fica na calçada aplaudindo.
Quando a Critical Mass começou, em 1992, San Francisco, como quase todas as cidades americanas, era dominada pelos carros. No início, o movimento sem líderes incomodou. Os motoristas ficaram revoltados e o prefeito prometeu acabar com aquilo. Mas, como costuma acontecer por lá, os ativistas venceram. O movimento se institucionalizou, e hoje San Francisco, apesar das subidas, é um paraíso para os ciclistas. Já há 100 quilômetros de ciclovias – uma extensão e tanto para uma cidade daquele tamanho – e a prefeitura continua inaugurando novas. Para pedalar lá, compre um mapa das ciclovias, à venda em qualquer loja especializada. O mapa também traz uma informação crucial para quem pedala naquela cidade linda e cheia de ladeiras: cores indicam o grau de inclinação das ruas (as brancas são planas; as vermelhas, para queimar as panturrilhas).
Ir à Critical Mass é uma das coisas divertidas de San Francisco. Mas talvez você prefira algo mais organizado (mas nem por isso menos contestador). Uma dica é procurar por Chris Carlsson, um historiador da contracultura da cidade. Chris, além de ser imensamente gente fina, fez parte do grupo que criou a Critical Mass e é ativista há décadas. Ele organiza tours de bicicleta, os Cycles of History, que o jornal San Francisco Bay Guardian chama de "melhor tour histórico da cidade". São passeios de quatro horas em que você vê hortas comunitárias de ativistas anticonsumo, lugares de antigas manifestações, restos arqueológicos de uma cidade que sempre gostou de brigar. Ele não fala português, mas arranha em espanhol e adora o Brasil.
Você é o que consome
Outro momento para conhecer a fundo a San Francisco ativista é na hora de ir às compras. Claro que há por lá as lojas de grife que você encontra em qualquer lugar do mundo, como Starbucks e McDonald's. Mas, se você quiser mesmo sentir a vibração da cidade, o caminho é ir a um dos muitos pontos de comércio "independentes" ou "alternativos". Eles juntam consumo e engajamento político, já que, para muita gente em San Francisco, o ato de comprar tem maior efeito social do que o de votar.
Continua após a publicidade
Um dos meus maiores prazeres é passear pelos pequenos cafés da cidade. Primeiro, é preciso se esquecer do velho preconceito brasileiro de que americano não entende de café. Em San Francisco, toma-se café de primeira, forte e importado das melhores regiões produtoras do mundo (e bebido numa caneca gigantesca, o que é ruim para o seu estômago mas ótimo para preencher uma tarde). Além do hippie Red Victorian, já citado, tem o Revolution Cafe, no mesmo bairro, simpático aos simpatizantes da erva, o anarquista Coffee to the People, na Masonic com a Avenue Haight, e muitos mais, para se sentar e olhar calmamente a vida passar.
Também não faltam mercadinhos geralmente especializados em produtos orgânicos e da região, o que os torna, a uma só vez, "socialmente responsáveis" e "ambientalmente corretos", essas expressões que fazem bastante sentido em San Francisco. O mais impressionante é o Rainbow Grocery Cooperative, um supermercado-cooperativa. Compre barato ali castanhas e frutas, além de produtos caros a um bom viajante, como um desodorante que dura um ano inteiro. Quase nada vem embalado – leve uma sacolinha. Outro mercado a ir é o Bi-Rite, no Mission, perto do Dolores Park. Perfeito para comprar uma comidinha gourmet, levá-la ao parque e fazer um piquenique (e não se esqueça do cobertor ou do agasalho: San Francisco sempre esfria muito ao entardecer).
Há opções independentes até das coisas mais inusitadas. Por exemplo, a gigantesca loja de materiais esportivos Sports Basement, em frente ao mar no bairro Marina, que adota o estilo desencanado: caixas empilhadas, cartazes escritos a mão, decoração avacalhada (era um antigo supermercado, e a sinalização nas paredes foi preservada). Há tudo da Nike ali, mas também muitas grifes moderninhas independentes, com preços bem razoáveis.
Na mesma onda, San Francisco tem festivais musicais alternativos (como o gratuito Stern Grove Festival, no parque de mesmo nome, nas manhãs de domingo de verão). Há também sessões gratuitas de cinema que subvertem o conceito da sala escura tradicional (a série Film Night in the Park, por exemplo, projeta filmes em telões infláveis no parque, no verão).
Para ficar sabendo de tudo isso, a dica é apanhar na rua o SF Guardian, o jornaleco mais bem informado da região (ele ainda tem aura de "independente", mas foi comprado por uma grande rede de jornais desse tipo no país inteiro). É grátis e bom de ler, mesmo se seu inglês é mais ou menos. Está cheio de dicas quentes para quem quer curtir a vida ativista e cultural da cidade. Também é útil ficar de olho nos cartazes pendurados nas paredes dos cafés e de outros estabelecimentos alternativos. Pode ser o único jeito de ficar sabendo de eventos bacanas.
Golden Gate e leões-marinhos
Claro que uma visita a San Francisco não é feita só de ativismo. A cidade tem um monte de atrações lotadas de turistas – e eles não devem estar nem um pouco errados em suas opções. Como cruzar a Ponte Golden Gate (bicicleta alugada é o jeito perfeito de fazer isso: uma pedalada de uma hora e meia apenas até a cidadezinha costeira de Sausalito, de onde dá para pegar o ferry de volta). Ou caminhar entre as lojinhas de Chinatown (não deixe de entrar nos bequinhos). Ir ver os leões-marinhos no píer do Fisherman's Wharf (eles invadiram uma área de atracadouros há 30 anos e hoje centenas deles ficam posando para os turistas). Subir ao topo da Coit Tower ou do Twin Peaks. Pegar o barco para a visita guiada ao presídio da Ilha de Alcatraz (uma opção é o tour noturno, com direito a pôr do sol no mar). Andar de bondinho pelos bairros altos de Nob Hill e Russian Hill. A lista é grande.
Mas, claro, não deixe de caminhar pelas ruas lindas da cidade, cheias de gente estranha e de vistas incríveis, sob o céu azul e o fog denso, com o mar muitas vezes aparecendo lá atrás. San Francisco é uma cidade tão linda que faz tudo parecer possível. Inclusive mudar o mundo.
Leia mais:
Continua após a publicidade
Fonte: Viagem e Turismo