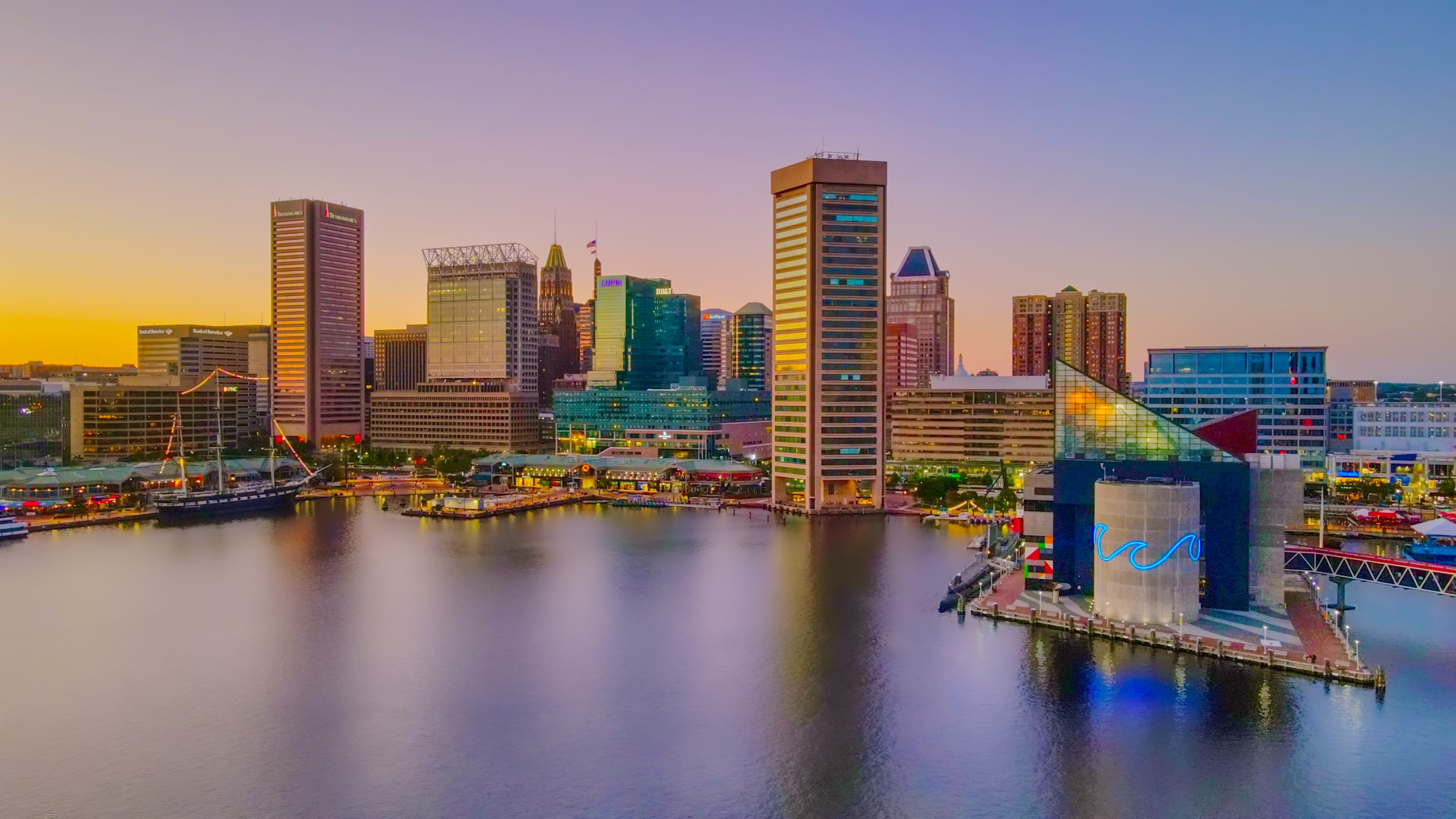 "There's more than murder here!" (Há mais do que assassinato aqui!), diz um adesivo de gosto duvidoso sobre Baltimore, o maior centro urbano do estado de Maryland, 62 quilômetros ao norte de Washington D.C. Nas áreas mais pobres, a cidade sofreu (e ainda sofre) com a violência associada ao tráfico e consumo de drogas. Para combater a má fama, a prefeitura adotou o epíteto Charm City em 1975 e, em 1981, inaugurou o National Aquarium, entre os melhores dos Estados Unidos. O aquário é a principal atração do Waterfront, a área do Inner Harbor (no centro da cidade) banhada pela baía e cercada de restaurantes, lojas e lazer para famílias. Baltimore é ainda a sede de uma das bibliotecas mais lindas do mundo, de um dos estádios de beisebol mais charmosos da América e de lojas locais com alma hipster. A 50 minutos de D.C. pelo trem Amtrak, uma esticadinha até Charm City provará que, de fato, there's muuuch more than murder here.
1º DIA
9H – WATERFRONT
Um bom hotel para se hospedar é o Delta Baltimore Inner Harbor, upscale com a cidade inteira à mão. A dez minutos a pé de lá, você já estará no Waterfront, um píer cercado de prédios modernos e atrações para uma manhã inteira: o National Aquarium tem tanque de contato para a criançada, pinguins, tubarões de todos os tipos e até uma floresta tropical com animais da Amazônia; o Maryland Science Center, museu de ciências com exposições, experimentos e, cobrados à parte, IMax e planetário; e todo o perímetro do píer para caminhar e fotografar.
Tente resistir às redes The Cheesecake Factory e Hard Rock Cafe e continue o passeio até o American Visionary Art Museum, atravessando a Key Highway. Ali, procure um prédio meio riponga, cheio de cacos de espelho na fachada, com acervo de artistas autodidatas – a exemplo dos mini quadros feitos por um presidiário com a linha desfiada da própria meia. Não saia de lá sem se perder no gift shop, cheio de objetos divertidos, como o papel higiênico com o rosto de Trump. "It's so satisfying" (É tão prazeroso), lhe dirá o caixa sobre o uso do produto.
13H – ALMOÇO DISRUPTIVO
A 15 minutos de táxi ou Uber, você chegará à R. House, um food hall com dez boxes permanentes, restaurantes pop-up e um cocktail bar. Vale tanto pelo modelo alternativo de refeição, com apenas chefs locais, quanto pela vizinhança de artistas e empreendedores. As especialidades vão de tacos e pizzas a churrasco coreano.
14H30 – AVENUE X ORIOLES
Pegue novamente um táxi ou Uber, ou, se preferir, caminhe pela Remington Avenue até a W 33rd, vire à direita na Chestnut e ande até a W 36th, entrando nela à esquerda. Conhecido como The Avenue, o trecho da 36th até a Falls Road, antes um bairro operário, agora é um eclético comércio em casas adaptadas e lojas propriamente ditas, com artigos interessantes ou nem tanto, mas muito agradável para uma caminhada. Logo na esquina com a Chestnut, não perca a The Charmery, sorveteria de esquina com decoração retrô e sorvetes cremosos. Perto, a Ma Petite Shoe seduz com sapatos moderninhos e, no mesmo espaço, chocolates de todo o mundo. Outro endereço obrigatório é a Throv, loja de utilidades para o lar que faz o cartão saltar da carteira.
Continua após a publicidade
Como alternativa à tarde de vitrines, os amantes do esporte podem visitar o Oriole Park at Camden Yards, o badalado estádio em estilo retrô dos Orioles, o time de beisebol da cidade. O Camden fica a 20 minutos a pé do Visionary Museum.
16H30 – À LA ALLAN
De volta à W 36th, vire à direita na Falls Road e à esquerda na Union Avenue para chegar à Union Craft Brewing, movimentada cervejaria local. O jantar está bem ao lado, no La Cuchara, comentado restaurante de tapas e pintxos com balcão de 40 lugares e coquetéis sobre as mesas.
Se você tiver ido ao beisebol, pegue um táxi até a Thames Street, do outro lado de Inner Harbour, para conhecer os bares de Fells Point. Um deles é o The Horse You Came in On, que tem happy hour de bebidas e petiscos e foi o bar do último drinque do poeta Edgar Allan Poe. Para provar bourbons, ryes e premium uísques, vá até o Cannon Room, sofsticado bar do Hotel Sagamore Pendry (cujo dono é o mesmo da Under Armour, marca nascida e criada em Baltimore). Antes de voltar para o hotel, esteja você no La Cuchara ou em outro bar, feche a noite no Cat's Eye Pub. Instituição local, o despojado bar tem música regional ao vivo, tocada por músicos roots. Só aceita cash.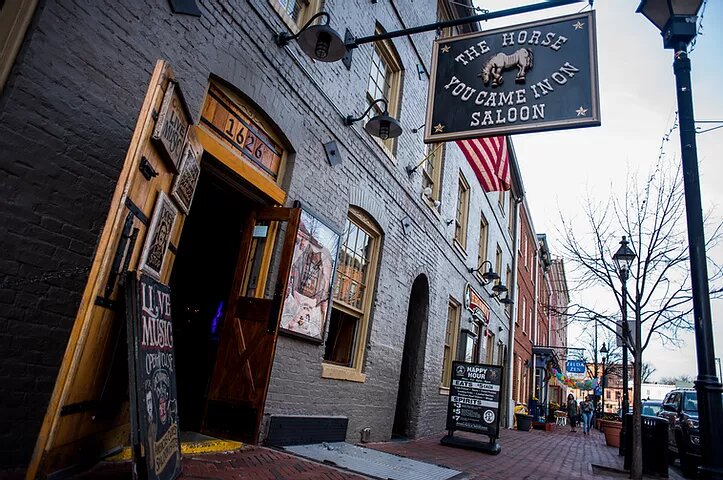 2º DIA
9H – CHARM CITY
Se você não estiver no hotel Delta Baltimore, dirija-se para a rua dele, a E Redwood, e vá até a Light Street. A proposta é conferir alguns endereços-chave da arquitetura de Baltimore, o primeiro nessa esquina. O lindíssimo prédio art déco de 1929, ex-Baltimore Trust Company Building e ex-Bank of America Building, é hoje chamado de 10 Light Street e já foi o maior do estado, com 37 andares e 155 metros. Nos últimos anos, perdeu funções comerciais até ser comprado por uma imobiliária e loteado para locação residencial, tendência nos edifícios antigos das grandes cidades americanas. É nesse mesmo prédio que, não deixe de visitar, fica a FX Studios, academia parceira da Under Armour, que ocupa o espaço usado como banco no passado e que foi arquitetonicamente preservado como tal. Os detalhes de ferro forjado, na marmoraria, no piso… Está tudo lá – entre pesos, colchonetes e equipamentos fitness.
A seguir, pela E Redwood, caminhe para a S Charles Street, entre à direita e ande sete quadras até a W Hamilton, à esquerda. Logo à direita, a Morton Alley o levará ao The Walters Art Museum, que tem obras da Antiguidade ao Impressionismo. Saia pela W Centre, à esquerda, vire novamente à esquerda na Washington e você estará aos pés do Monumento a Washington, um obelisco encimado pela estátua do primeiro presidente dos Estados Unidos, no topo do bairro nobre de Mount Vernon. Atravesse a E Mt. Vernon à direita e localize a Biblioteca George Peabody. Então, segure o queixo: contornando o átrio retangular, cinco pavimentos avarandados com colunas gregas e balaustradas de ferro comportam estantes e estantes de livros, como camarotes de um teatro antigo. Ops, babei.
Leia tudo sobre Estados Unidos
Busque hospedagem em Baltimore
Resolva sua viagem aqui
Continua após a publicidade
Fonte: Viagem e Turismo