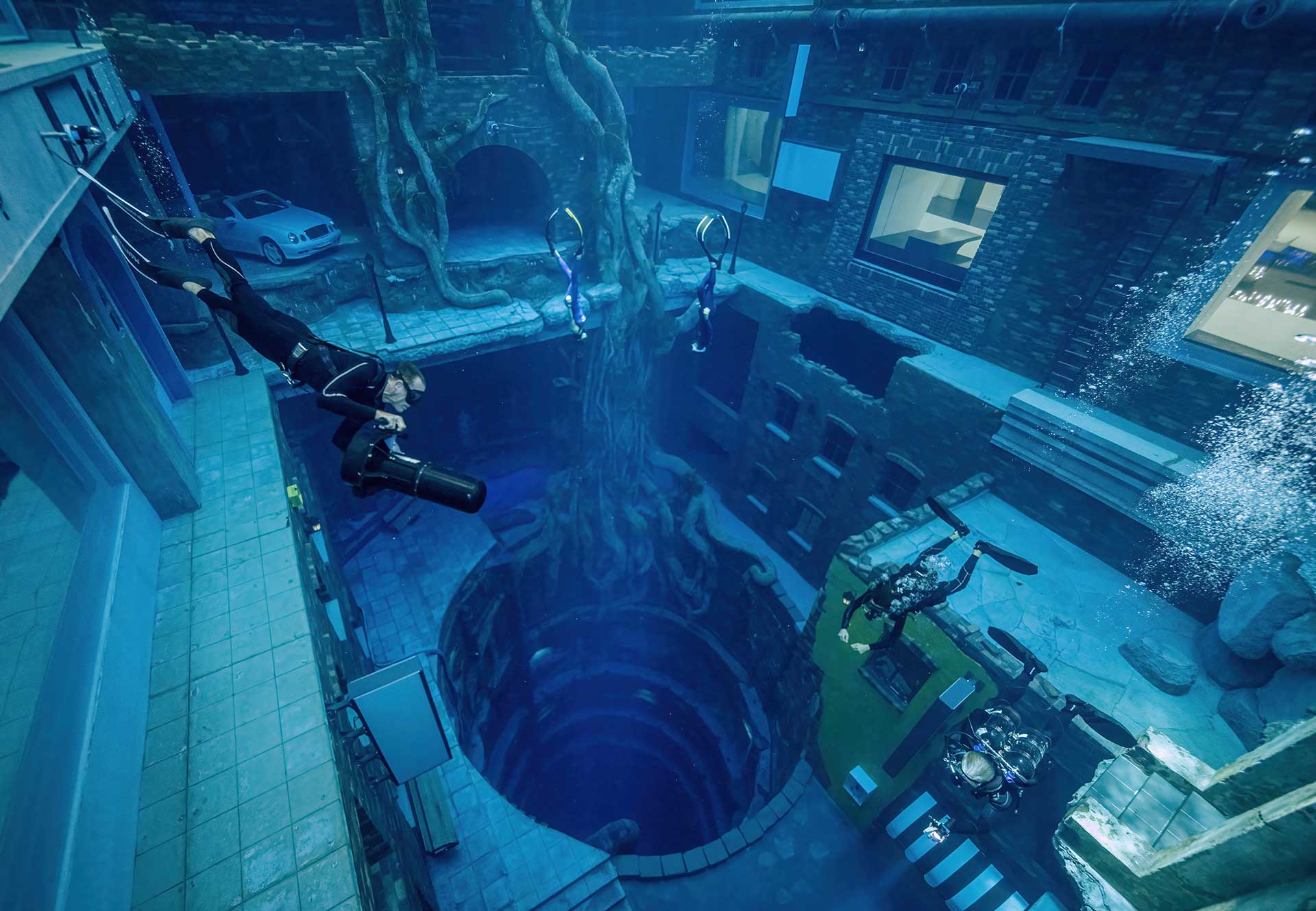 Dubai, que já possui uma lista considerável de atrações recordistas e extravagantes, inaugurou na segunda-feira (12) a piscina de mergulho coberta mais profunda do mundo. O título foi concedido em 27 de junho pelo Guinness World Record, que atestou que o Deep Dive Dubai possui uma profundidade de 60 metros – 15 a mais do que o detentor do recorde anterior, o polonês DeepSpot. A nova atração dos Emirados Árabes é abastecida com 3,7 milhões de litros d'água, o equivalente a seis piscinas olímpicas, mantidos a 30 °C. A temperatura é considerada confortável para que os visitantes entrem usando roupa de banho ou, no máximo, um traje de mergulho fino.
Por enquanto, o piscinão está aberto apenas para convidados. Algumas das primeiras pessoas a experimentarem a nova atração foram o sheikh Hamdan bin Mohammed, príncipe herdeiro de Dubai e mergulhador ávido, e o ator Will Smith, que compartilhou a visita através do seu perfil no Instagram (veja abaixo). A rede social, aliás, foi claramente levada em consideração durante a elaboração do projeto. Ao alcançarem as partes mais profundas do Deep Dive Dubai, os mergulhares encontram uma cidade submersa cheia de adereços que servem de cenário para fotos, como tabuleiros de xadrez, mesa de pebolim, estante de livros, grafites, moto e carrinho de compras.
A cidade fake no fundo da piscina é uma forma de compensar a ausência de vida marinha, que normalmente é uma grande parte da experiência dos mergulhos em alto mar. Porém, existem vários benefícios de mergulhar em uma piscina, como as condições metereológica controladas, a ausência de correntes, o controle da temperatura da água e a iluminação mesmo nos pontos mais profundos. Não à toa, a atração a 15 minutos do centro de Dubai pretende oferecer cursos para amadores, enquanto aqueles que já possuem certificação poderão explorar a piscina livremente ou com guia. Segundo a agência de notícias AFP, um mergulho de uma hora custará entre US$ 135 e US$ 410.
Independentemente do nível de habilidade, a empresa alerta que, após o mergulho, é recomendável aguardar entre 18 e 24 horas antes de subir mais de 300 metros de altura. Ou seja, a visita ao Burj Khalifa, o maior arranha-céu do mundo, não poderá ser feito na sequência porque o corpo pode sofrer com as súbitas mudanças de altitude. Caso você esteja se perguntando, outras atrações recordistas de Dubai são o Gevora Hotel, o mais alto do mundo, o Address Beach Resort, dono da mais alta piscina de borda infinita ao ar livre, o The Dubai Mall, maior shopping center, a The Pointe at Palm Jumeirah, maior fonte, e o The Pointe at Dubai Future Foundation, primeiro edifício comercial impresso em 3D.
Continua após a publicidade
Fonte: Viagem e Turismo