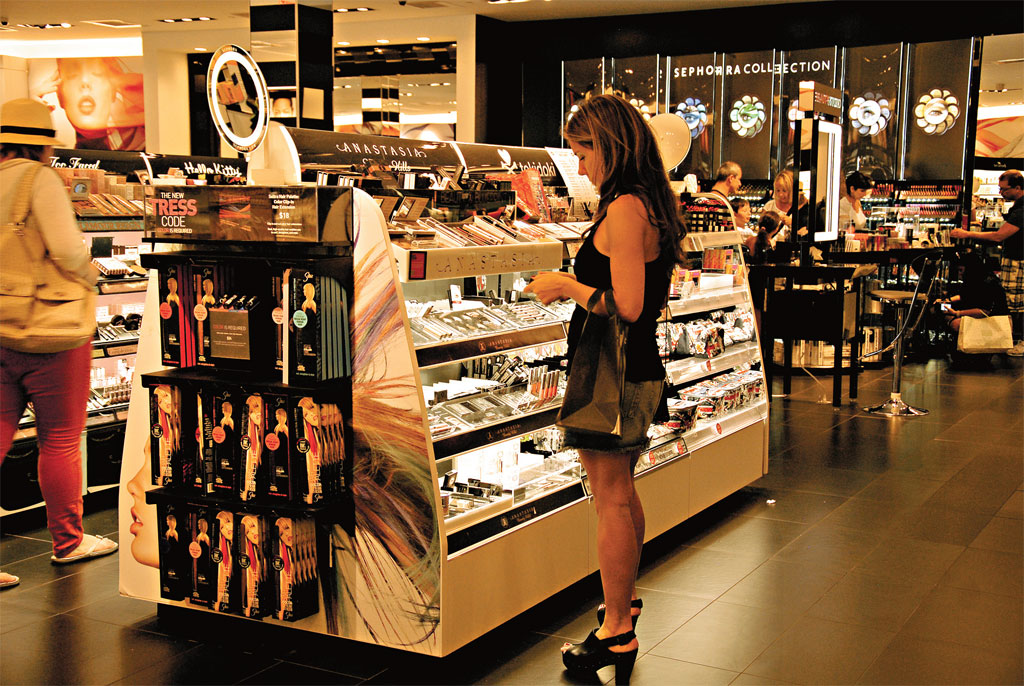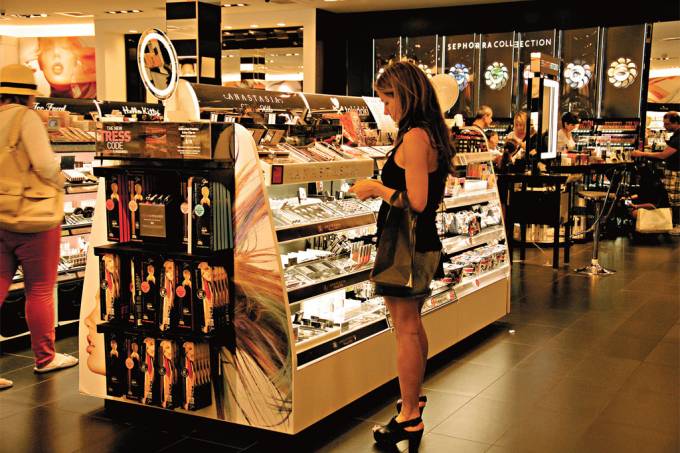 Miami Art Basel, Design District, a sempre divertida South Beach. Miami está na moda. E, apesar da crise econômica americana (ou talvez por causa disso), a cidade nunca esteve tão cheia de promoções. Os brasileiros continuam com bons motivos para encher malas e sacolas em outlets e shoppings, mas agora, além dos eletrônicos, das roupas e dos perfumes sempre mais baratos que no Brasil, há produtos em mais exclusivos nas estantes, sejam eles de grife ou de design – e não necessariamente baratos. A VT montou este roteiro para que você não se perca entre as inúmeras ofertas da cidade – e não perca as inúmeras ofertas da cidade.
Dia 1 – Começando pelo começo
Uma regra simples. Comece sempre pelo mais básico. Isso vai lhe valer uma boa dezena de dólares de economia no fim de sua viagem. Acredite: é sempre no início da viagem que a gente tem paciência para correr atrás das pechinchas. O outlet mais famoso da Grande Miami fica a uma hora de Downtown, em Sunrise, perto de Fort Lauderdale. É o Sawgrass Mills (12801 West Sunrise Boulevard, 954/846-2350), com 350 lojas. Chegue cedo, pegue um mapa e escolha as lojas que pretende visitar. É impossível ver tudo num só dia – e, de qualquer forma, não vale a pena. Aposte nos outlets da Banana Republic, Nike (com tênis desde US$ 40), Gap e Adidas. Para os mauricinhos, a Ralph Lauren (com camisas polo desde US$ 39,90 e malhas por US$ 20) e a Burberry são escolhas óbvias. Se ainda tiver fôlego – e limite no cartão de crédito – visite um dos vários endereços da Ross Dress for Less (954/851-1056, www.rossstores.com), cujo slogan é "The joy of saving" ("A alegria de economizar", em tradução livre). A loja comercializa produtos de grifes com descontos que podem chegar a 60% do valor nos magazines e é uma das prediletas da empresária paulista Tatiana Foresta, de 36 anos, 18 deles fazendo compras em Miami. "É uma bagunça e requer muita paciência, mas já encontrei produtos a preços incríveis." Se tiver pouco tempo, não deixe de ir à Barneys New York (933-0923, www.barneys.com). Suas peças exclusivas, como um bom cashmere, podem sair por 50% do preço nas lojas de departamentos. Veja também as bolsas femininas, que não são de grife mas são únicas. Há outra Barneys em South Beach, na Collins Avenue, 832.
Dia 2 – Em aventura
Deixe Miami novamente em direção ao norte, dessa vez até Aventura, a 32 quilômetros de Downtown. Faça a primeira parada na Loehmann's (18701 Biscayne Boulevard, 932-4207). Calças premium das marcas Joe's, Citizens of Humanity e 7 for All Mankind saem por 99 dólares (ou menos, dependendo do modelo). Vale olhar também a seção de bolsas, sapatos e cosméticos. Veja também o back room, onde há peças de estilistas como Michael Kors, Tory Burch, Helmut Lang e Calvin Klein com até 70% de desconto. Um terninho Calvin Klein sai por 150 dólares. Depois é hora de fazer compras mais volumosas no Aventura Mall (19501 Biscayne Boulevard, 935-1110), um dos shoppings mais completos da região de Miami, com 240 lojas. Todas as grandes lojas de departamentos americanas estão ali. Caso de Sears (barata), Macy's (média) e Nordstrom (cara). Mas não espere muita coisa da Toys"R"Us, a mais famosa loja de brinquedos americana. A unidade do Aventura Mall é a "Express", uma versão reduzida. Há uma maior na 551 NE 167, em North Miami Beach, na direção de Sunny Isles.
Dia 3 – Dolphin Mall e Coral Gables
É bem possível que sua mala já esteja lotada, mas você está longe de ter comprado tudo do que precisa – e do que não precisa. Uma boa pedida agora é olhar as 240 lojas do Dolphin Mall (1401 NW 12th Street, Miami), a oeste do aeroporto de Miami, uma espécie de mini-Sawgrass. Vale a pena passar pelas lojas de fábrica da Aldo (sapatos em torno dos US$ 50), Ann Taylor (roupas básicas para ir ao trabalho), Bebe, Bose, Kenneth Cole, Nine West, Sony, Quiksilver e Levi's. Saia pela hora do almoço para curtir o ambiente ao ar livre da região da Miracle Mile (S 22th Street), em Coral Gables. Na altura da Le Jeune Avenue, a rua tem butiques de designers locais. Faça uma boca no Green Gables Café (27 Alhambra Circle, 445-7015), o melhor restaurante orgânico da cidade, e um passeio pelos corredores da livraria Books & Books (65 Aragon Avenue, 442-4408). Sim, existem livrarias em Miami. Por fim, viva um Momento Mauá na Viva Verde (4794 SW 72nd Avenue), oásis escondido de peças únicas naturais e orgânicas como chás, velas, acessórios, roupas.
Dia 4 – Um pouco de glamour, porque a vida é curta!
Depois dessa via-sacra pelos outlets e malls mais acessíveis, é hora de render- e ao luxo. O Bal Harbour Shops (9700 Collins Avenue, 866-0311), ao norte de Miami Beach, é o lugar para isso. Uma das lojas mais baratas é a espanhola Custo Barcelona (864-0426), com camisetas por 100 dólares. Para as mais caras, o céu é o limite. Escolha entre a novíssima Lanvin, a Cartier, a Marc Jacobs (com bolsas desde US$ 800), a Dior, a Missoni, a Chanel e outras dezenas de marcas premium. Ali fazem compras J.Lo, Oprah Winfrey e Christina Aguilera. Se Bal Harbour assustar, uma alternativa mais barata é o Village of Merrick Park (4310 Ponce de Leon Boulevard, 786/999-1313), novamente em Coral Gables. Eis algumas das 100 lojas: Tiffany's, Nordstrom, Cavalli, Diane von Furstenberg e a centenária Nei man Marcus. Tudo isso cercado por um lindo pátio com palmeiras.
Continua após a publicidade
Dia 5 – Design District
De um lugar que era uma terra de ninguém há cinco anos surgiu o distrito mais cool de Miami. O Design District e seu vizinho Wynwood têm hoje mais de 130 galerias de arte e atrai um público avant-garde antenado em artes, design e moda. Na finlandesa Marimekko (3940 North Miami Avenue, 573-4244) há acessórios roupas com cores fortes e desenhos minimalistas. Passe depois na I on the District (120 NE 40th Street, 73-9400), especializada no que se chama de eyewear, para experimentar a linha Oliver Peoples, um luxo. Conheça também a butique multimarcas En Avance (161 NE 40th Street, 576-0056) e a loja conceitual da Adidas Y-3 (150 NE 40th Street, 573-1603), cujos produtos da famosa marca esportiva alemã foram desenvolvidos pelo estilista japonês Yohji Yamamoto. Por fim, o estiloso Moore Building (191 NE 40th Street) tem lojas que seguem o conceito de "impermanência" e são substituídas por outras, regularmente.
Dia 6 – Fechando com estilo
Se você não aguenta entrar em shoppings, surpresa! A Collins Avenue, em South Beach, tem lojas que podem resolver seu problema. Não é preciso se preocupar com estacionamento, GPS etc. Comece pela Urban Outfitters (nº 653, 535-9726), com looks alternativos para homens e mulheres de até 30 anos, e a Intermix (nº 634, 531-5910), uma das butiques mais caras e transadas de Miami Beach, onde moçoilas provam o último modelo da estilista Stella McCartney. Finalmente, a The Webster (nº 1220, 674-7899) é a butique multimarcas por excelência do bairro, espécie de Daslu local. Em seus três andares dividem espaço acessórios e roupas de Marc Jacobs, Azzedine Alaia, Balenciaga, Miu Miu, YSL e outros. No intervalo das compras saboreie o shoppers lunch, três pratos por 30 dólares, do Kaspia, restaurante de matriz em Paris, famoso pelo caviar Beluga.
Dicas para comprar
Se você tem menos tempo disponível, descubra seu "mall profile" e vá direto a ele
1. Se você frequenta a Oscar Freire, em São Paulo, ou o Fashion Mall, no Rio, seus shoppings em Miami são o Aventura Mall (pela quantidade), o Village of Merrick Park (pela qualidade e ambiente) e o Bal Harbour Shops (pelas marcas de luxo).
2. Você se interessa pelos estilistas iniciantes e pela cena underground? Aventure-se então pelas lojas de segunda mão de Coconut Grove, como a The Fashionista Boutique (3135 Commodore Plaza, 443-4331), e lojas multimarcas do Design District.
3. Você adora que reconheçam a marca de sua camiseta? Loehmann's, Sawgrass, Dolphin Mall são os lugares para arrematar os últimos modelos de Ralph Lauren, Lacoste, Diesel, Armani Exchange, com 60% de desconto.
4. Não gosta de shoppings? O que você está fazendo aqui? Bem, não se desespere. A Collins Avenue é o seu lugar. Se te der um faniquito, de qualquer forma a praia está sempre a um quarteirão de distância.
Continua após a publicidade
Fonte: Viagem e Turismo