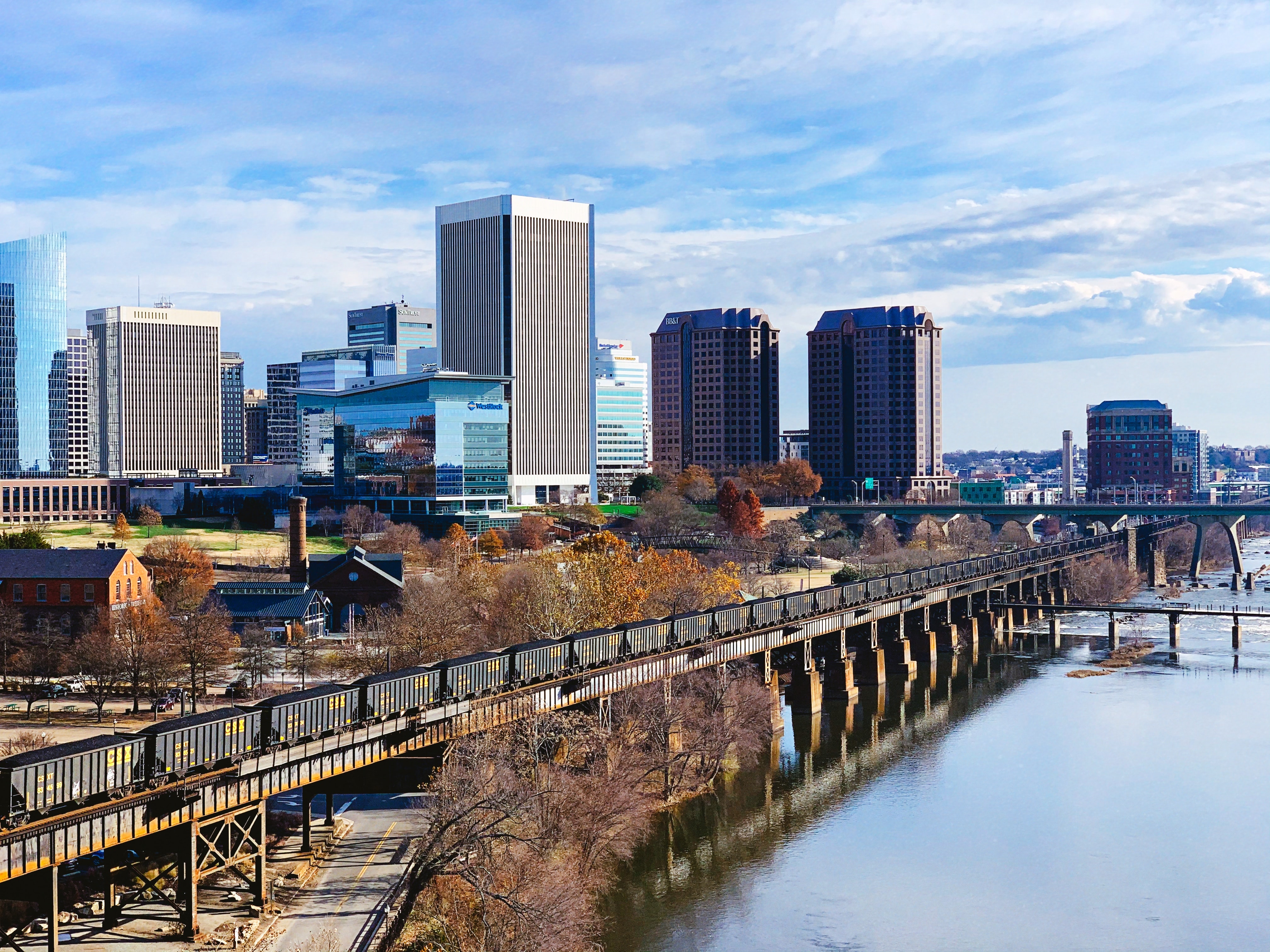 Um a um, a guia do Trolley Tour pergunta a origem dos visitantes. Mississippi. Fairfax. Chicago. Alabama. Ninguém, exceto eu, de fora dos Estados Unidos. Não ter fama turística, na verdade, parece fazer bem a Richmond, a capital da Virgínia, 175 quilômetros ao sul de Washington D.C. Com um centro pacato, apesar dos edifícios imponentes, a cidade foi capital também dos escravocratas Estados Confederados na Guerra Civil Americana (1861– 1865), da qual as forças abolicionistas da União saíram vitoriosas.
O tempo passou, os líderes confederados acabaram absolvidos no panteão da América, e Richmond exibe hoje com orgulho sua marca RVA (VA de Virgínia), reproduzida em adesivos por todos os lados. Bucólica às margens do Rio James, moderninha nos restaurantes farm-to-table, hipster nas cervejarias e retrô nas lojas de Carytown, a cidade conquista o visitante com autenticidade. Motivo extra para visitá-la: alugar um carro e dirigir em highways que são um tapete.
Dia 1
8H – A PÉ E DE TROLLEY
Um excelente ponto de partida é o Residence Inn Downtown, hotel com apartamentos studio em Shockoe Slip, a área mais charmosa do centro, em rua de paralelepípedos. De lá, ande à direita pela S 14th Street até encontrar as placas do Canal Walk, caminho cênico à beira do canal que vai dar num paredão cheio de grafites, obras da primeira edição do RVA Street Art Festival. Meia hora após o início da caminhada, você estará em Browns Island, um bem cuidado jardim que dá acesso à Potterfeld Memorial Bridge. Essa passarela de pedestres atravessa o Rio James ao longo de 500 metros, com uma bela vista de Downtown na outra margem.
Volte ao hotel e, na esquina de cima da E Cary, entre à esquerda na Shockoe Slip. Ali, o RVA Trolley que você reservou já o estará esperando, às 10h30. Em duas horas, a jardineira com bancos de madeira faz um tour histórico por Downtown; circula pelo bairro negro de Jackson Ward, onde há uma estátua de Bill Robinson, ator parceiro de Shirley Temple e o primeiro afroamericano realmente bem pago de Hollywood; e percorre a Monument Avenue, uma bela via residencial de oito quilômetros com canteiro central, gramado e rotatórias com estátuas dos líderes confederados – a exceção é Arthur Ashe, tenista de Richmond que foi o único afrodescendente a vencer Wimbledon, Australian Open e US Open (cujo estádio principal leva o seu nome).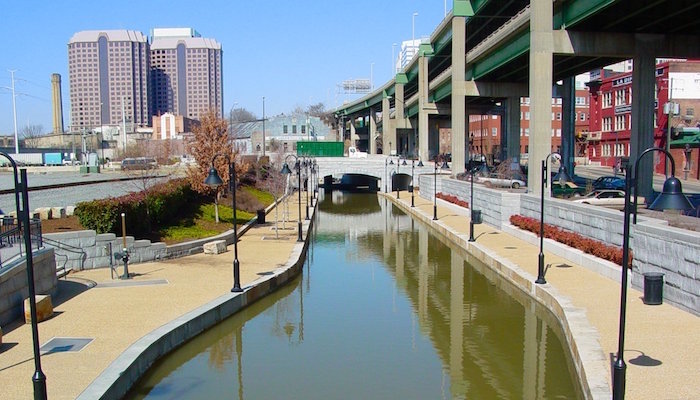 13H30 – FARM-TO-TABLE
Ao desembarcar na E Cary, suba três quadras e entre à direita na S 9th até a E Grace, já admirando, à direita, o Virginia State Capitol, edifício greco-romano de 1788 concebido por Thomas Jefferson no alto da Capitol Square. É possível fazer um tour autoguiado em seu interior, sede estadual do Legislativo. A altiva estátua equestre do lado de fora homenageia George Washington. Entre na E Grace, repare na linda fachada do Dominion Center (esquina com a N 6th) e, duas quadras adiante, escolha entre os restaurantes Rappahannock e Juleps, adeptos do conceito farm-to-table.
Continua após a publicidade
15H – CARYTOWN
Chame um táxi ou Uber e siga para Carytown, extensão da Cary Street, cinco quilômetros a oeste. Entre a S Boulevard e a S Nansemond, as seis quadras da W Cary reúnem lojas, bares e lanchonetes dos mais variados tipos, muitos divertidos. Para presentinhos legais, visite a Mongrel e a World of Mirth, uma loja de brinquedos que os adultos adoram. Há desde mini arcades e sushis de mentira até esquilos de pelúcia com cabeça de cavalo e band-aid com estampa de bacon.
Para roupas, os brechós Clementine e Ashby vendem artigos em bom estado de marcas bacanas. Fãs de vinis vão se acabar na Plan 9, e de videogames, na Bits+Pixels, que reúne consoles antigos e até alguns Game&Watch Nintendo, sucesso nos anos 1980. Para comer um burger em ambiente espacial trash-hipster-kitsch, vá ao Galaxy Diner. Ao lado, o cocktail bar The Jasper exala uma vibe speakeasy retrô.
Continua após a publicidade
18H – SCOTT'S ADDITION
Richmond tem um Beer Trail Map para explorar as cervejarias artesanais. A dez minutos de carro de Carytown, o bairro trendy de Scotts Addition virou um polo dos brew pubs. O mais bombado é o The Veil, bar escurão com afamadas cervejas sour. Além de lotar as mesas, o público faz fila para levar as novidades enlatadas. Também estão no pedaço a Blue Bee Cider, Ardent Craf Ales, Buskey Cider e Vasen Brewing.
A 50 metros da Ardent, o The Circuit é um arcade bar com fliperamas, videogames e torneiras com mais de 40 cervejas em sistema self-service. De lá, entre na Highpoint Avenue à direita, ande três quadras e, à esquerda, na Rockbridge, localize o Brenner Pass, restaurante clean com delícias alpinas, de fios curados e fondues a massas e carnes.
Continua após a publicidade
Dia 2
10H – BELAS ARTES
Vá direto para o moderno Virginia Museum of Fine Arts, a cinco quilômetros de Downtown. Com acervo rico em antiguidades e arte indiana, himalaia, africana e pré-colombiana, o museu tem boas mostras temporárias. Aproveite para admirar o lindo jardim de uma mesa do Best Café.
Leia tudo sobre Estados Unidos
Resolva sua viagem aqui
Continua após a publicidade
Fonte: Viagem e Turismo