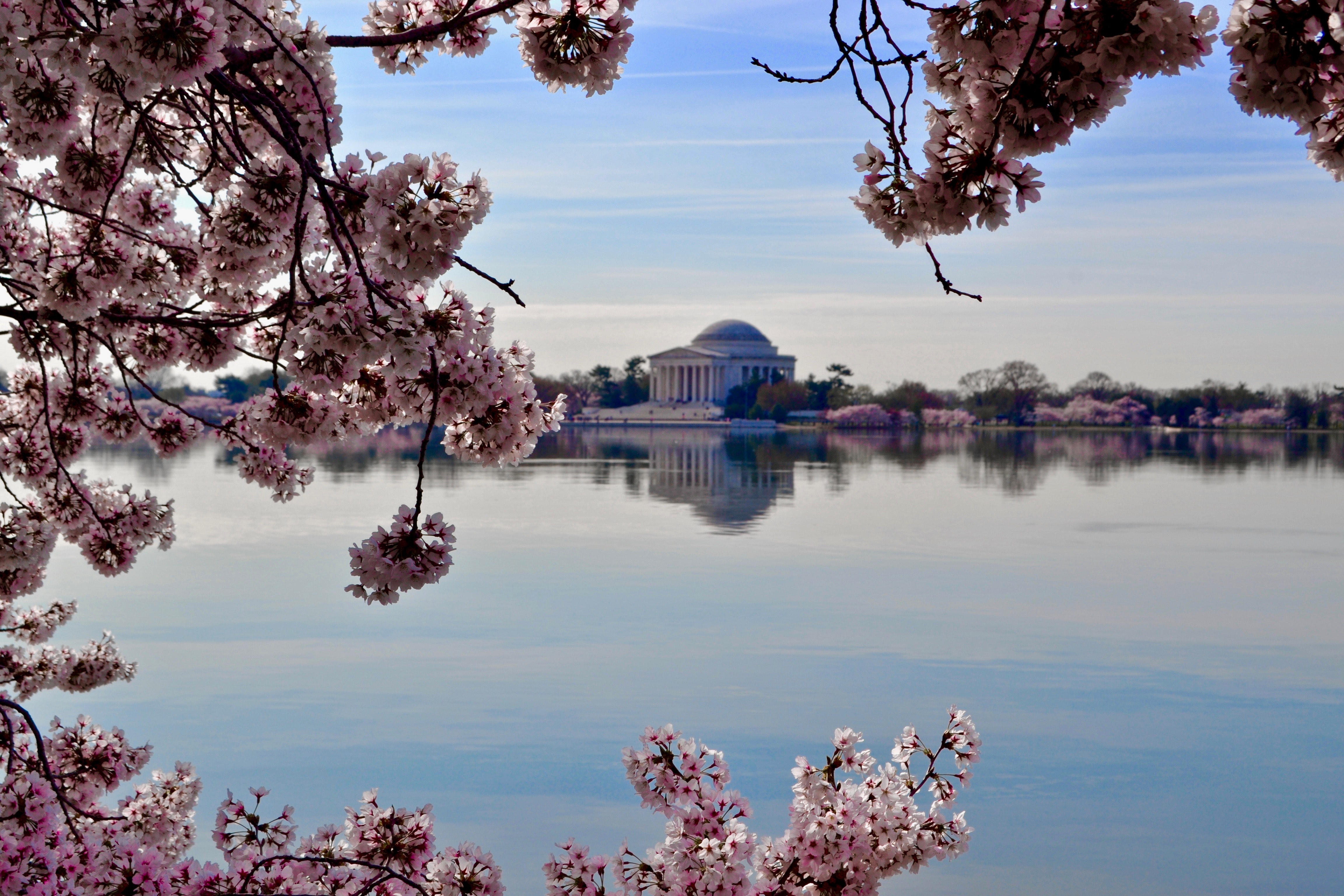 As trombetas da abertura de House of Cards (série disponível na Netflix) vinham em looping na minha cabeça, assim como a imagem dos prédios austeros e soturnos. Mas eu já previa que Washington D.C. – dii-cii, como eles dizem, sigla do Distrito de Columbia e carinhoso apelido da região – deveria ser muito mais viva, colorida, interessante do que fazia supor a cidade lúgubre da TV. Era o princípio de abril e, mesmo que as cerejeiras ainda florescessem timidamente, o céu azul e o fim de semana de Páscoa faziam o National Mall fervilhar como o Ibirapuera num domingo de sol.
The Mall, a alcunha da imensa área, é um gramado com 500 metros de largura por 4 quilômetros de extensão (aí incluído o West Potomac Park), ladeado por duas avenidas e correspondente em importância ao Eixo Monumental de Brasília. Em sua extremidade leste encontra-se o Capitólio, sede do Congresso americano, e, a noroeste, a Casa Branca, gabinete e residência do presidente dos Estados Unidos. No centro de tudo, o icônico obelisco homenageia George Washington. Entre a grama, as cerejeiras, os monumentos e os espelhos d'água, há uma dúzia de museus, quase todos grátis, quase todos incríveis. De arte pós-moderna a ossadas de dinossauro, da trajetória dos negros nos Estados Unidos à corrida espacial, os conhecimentos, marcos e conquistas do país mais observado do mundo se materializam na frente dos visitantes.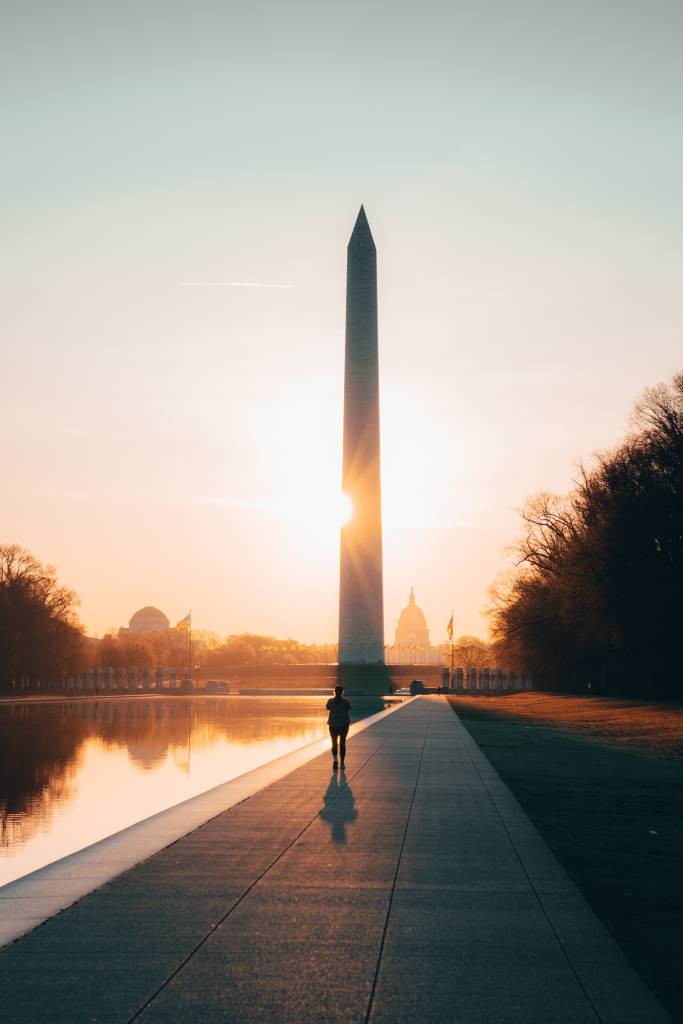 A capital americana não se resume ao National Mall. Ao norte, a cidade se espalha em ruas perpendiculares e avenidas transversais com grandes confluências circulares. Os prédios vão das típicas row houses (geralmente de tijolinhos, com dois ou três pisos geminados) aos edifícios mais modernos, mas que não costumam passar dos 12 andares ou 40 metros, o que dá uma escala humana à urbe de D.C. A mesma sensação vem de bairros como Chinatown (do muito fotografado pórtico Friendship Archway) e de redutos como Blagden Alley, uma viela mezzo residencial, mezzo boêmia na vizinhança do Convention Center. Ali ficam bares como o Calico, que tem um quintal-lounge com aquecedores e cobertores para espantar o frio. Vizinho, o charmoso The Dabney valoriza ingredientes – e clientes – locais.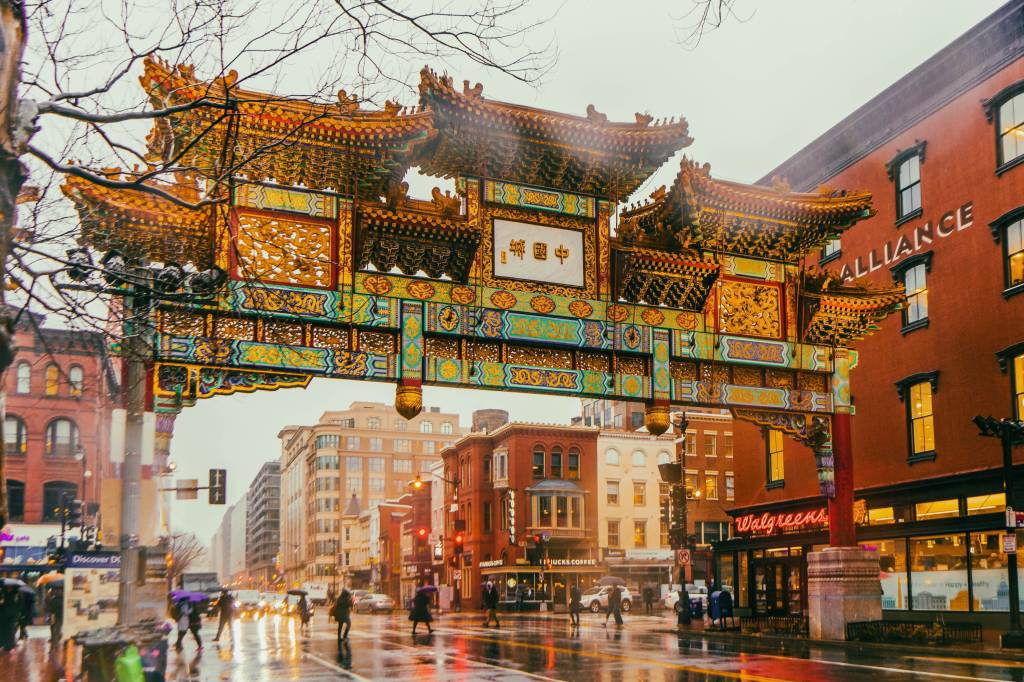 Outro prazer no norte da cidade é zanzar sem se preocupar com a volta, já que o Uber funciona bem, há táxis em abundância (dirigidos por etíopes, eritreus e afins, geralmente fãs de Ronaldinho Gaúcho), o sistema de bike sharing conta com mais de 500 estações e as seis linhas do Metrorail chegam a quase tudo o que interessa. Ônibus circulares cobrem as áreas turísticas não atendidas pelo metrô, como a parte oeste do The Mall e o bairro de Georgetown, um hit de passeio e compras dos brasileiros que vale mais pela graciosidade das fachadas do que pelos preços. Aos interessados, o filé das lojas está na M Street NW, mas eu economizaria o dinheiro da roupa nova para jantar como um congressman no Rare Steak and Seafood. Localizado perto da Casa Branca, o restaurante com jeito de taverna classuda serve uma maravilhosa lagosta do Maine.
THE SMITHS
Grande mantenedor dos museus de DC, o Instituto Smithsonian, fundado e gerido pelo governo americano, elenca doze endereços no National Mall, mais seis pela cidade e um Zoologico em Woodley Park, bom (e gratuito) programa para quem estiver com crianças. Entre os museus fora do The Mall, está a Renwick Gallery, um Smithsonian pertinho da Casa Branca. Também estão fora do The Mall, entre outros, o American Art Museum e a National Portrait Gallery, ambos no mesmo edifício, ao lado da estação Gallery Place do metrô.
PAREM AS ROTATÓRIAS
Na estação Archives do metrô, apenas uma ao sul da Gallery Place, o National Air and Space Museum é um dos museus mais aclamados de Washington D.C. Como em quase todos os Smithsonian gratuitos, não é necessário marcar hora nem retirar ingresso para entrar, mas, se a cidade estiver cheia de turistas, programe-se para chegar 20 minutos antes da abertura – a maioria dos museus funcionam das 10h às 17h30. Também como em quase todo grande museu de D.C., a visita ao aeroespacial é cheia de deslumbres, de descobertas e de referências do passado. Imagine entrar em um imenso hall envidraçado com espaçonaves pendendo sobre a cabeça, enormes foguetes enfileirados e geringonças que viajaram ao desconhecido.
As placas identificam e explicam as engenhocas, uma a uma: a cápsula Friendship 7, usada por John Glenn para dar três voltas na Terra e igualar o feito dos russos durante a Guerra Fria; a Gemini IV, que abriu as portas para a primeira flutuação de um americano no espaço, em 1965; a SpaceShipOne, um marco da era dos voos suborbitais, a partir de 2004; o Sputnik, o primeiro satélite artificial, enviado pela Rússia ao espaço em 1957; o módulo lunar LM-2, idêntico aos que pousaram na Lua nas missões entre 1969 e 1972; um módulo de trabalho reserva da Skylab, a estação espacial americana que minha mãe rezava para não cair na nossa cabeça na década de 1970 (e que, em 1979, de fato caiu, mas em uma área deserta da Austrália); a versão de testes do telescópio Hubble; a espaçonave soviética Soyuz, usada em parceria com os EUA nas operações com a Estação Espacial Internacional; o Flyer, o avião dos irmãos Wright, que, para os americanos, foi o pioneiro da aviação, em 1903; e até um cine IMax 3D e um planetário, ambos pagos, mas também interessantes para prolongar o passeio.
Dicas de quem trabalha em Washington
"No Theodore Roosevelt Island Memorial, dentro dos limites de DC, você pode caminhar entre as árvores ou apenas relaxar ao longo do rio. De lá, vale ir ao restaurante Thai Square, em Arlington, nos arredores de Washington." – Sean Alves, gerente da adega e restaurante District Winery
"Experimente a cidade como um nativo. Pegue um café na rede local Compass Cofee e caminhe. Fique atento para ver uma estátua ou um minúsculo museu que não receberá um ônibus lotado de crianças. Se vir um prédio interessante, entre e pergunte o que é. Há um ditado que diz: se quiser um amigo em Washington, pegue um cachorro. Eu discordo! Pergunte de onde as pessoas são, o que estão fazendo ali. Todo mundo tem uma história pra contar." – Sonya Gavankar, diretora de Relações Públicas do Newseum
BLACK POWER
Embora os museus de D.C. não sejam maçantes como uma interminável lição de casa, muito pelo contrário, eles demandam tempo. É preciso reservar, digamos, entre quatro e cinco dias na cidade para ver os melhores, visitar outras atrações e flanar rapidamente pelas grandes áreas verdes. Um dos museus das multidões no The Mall é o Natural History, programa consagrado especialmente para quem está com criança(s). De pedras lunares a múmias, de imensos esqueletos de baleias a dinossauros, dos artefatos de povos primitivos a bichos empalhados, de um diamante azul à fantástica arquitetura do edifício, o único inconveniente por ali pode ser a multidão de visitantes. Outro museu blockbuster da área é a National Gallery of Art, um daqueles super acervos com obras-primas de Jan van Eyck a Roy Lichtenstein, passando por Da Vinci (!), El Greco, Rembrandt, os impressionistas todos, Degas, Pollock e companhia. Também entra na lista dos campeões de público (e crítica) o US Holocaust Memorial Museum, reputado como um dos mais tocantes de D.C. As informações sobre ingressos podem ser conferidas no site.
Continua após a publicidade
O museu mais novo do The Mall, aberto em setembro de 2016, é o National Museum of African American History and Culture, e assim como no museu do Holocausto, é preferível adquirir os ingressos através do site. Como os demais Smithsonian, a entrada é grátis. Em forma de três trapézios invertidos e empilhados, o distintivo prédio do tanzaniano David Adjaye cria uma sensação única logo na fila, composta – na minha visita – por 90% de afro-americanos. Em 2018, a população negra de Washington, representava 50% da cidade, percentual que na vizinha Baltimore subia para 63%, enquanto a média nacional fica nos 12%. Tudo conspira para o sucesso do museu – inclusive o próprio.
Eu comecei pelo último piso, onde painéis descrevem aspectos do comportamento e da expressão dos afro-americanos – na dança, no vestuário, no cabelo, na linguagem. Um quadro explica o "colorismo", a preferência (ou segregação) social, econômica e política dos séculos 19 e 20 baseada na cor da pele. O texto lembra dos cremes branqueadores, que muitos negros acabaram usando na esperança de obter os mesmos privilégios dos brancos. A resposta vem no orgulho de James Brown, autor da frase "I'm black and I'm proud", e em manifestações simbólicas como o Black Power, eternizado pelos cabelos armados. Os líderes raciais são lembrados e homenageados, assim como grandes artistas, esportistas e celebridades. A vasta memorabilia inclui a guitarra e o Cadillac vermelho de Chuck Berry, um vestido de palco de Ella Fitzgerald, o trompete de Louis Armstrong, o smoking de Ray Charles, um look de Michael Jackson (visto como figura polêmica), muita coisa.
Na seção hollywoodiana, o museu menciona as produções feitas com e para negros até 1940, mas celebra os atores afrodescendentes que ganharam o Oscar e a cobrança da indústria do cinema pela pluralidade racial nos filmes. Respeitável, a ala dedicada aos esportistas expõe uniformes de grandes atletas negros, com especial reverência a Jessie Owens, multimedalhista de ouro nos Jogos (nazistas) de Berlim, em 1936, e aos velocistas Tommie Smith e John Carlos, que, no pódio dos Jogos do México, em 1968, ergueram seus pulsos cerrados com uma luva negra, gesto anti-discriminatório consagrado pelo movimento dos Panteras Negras.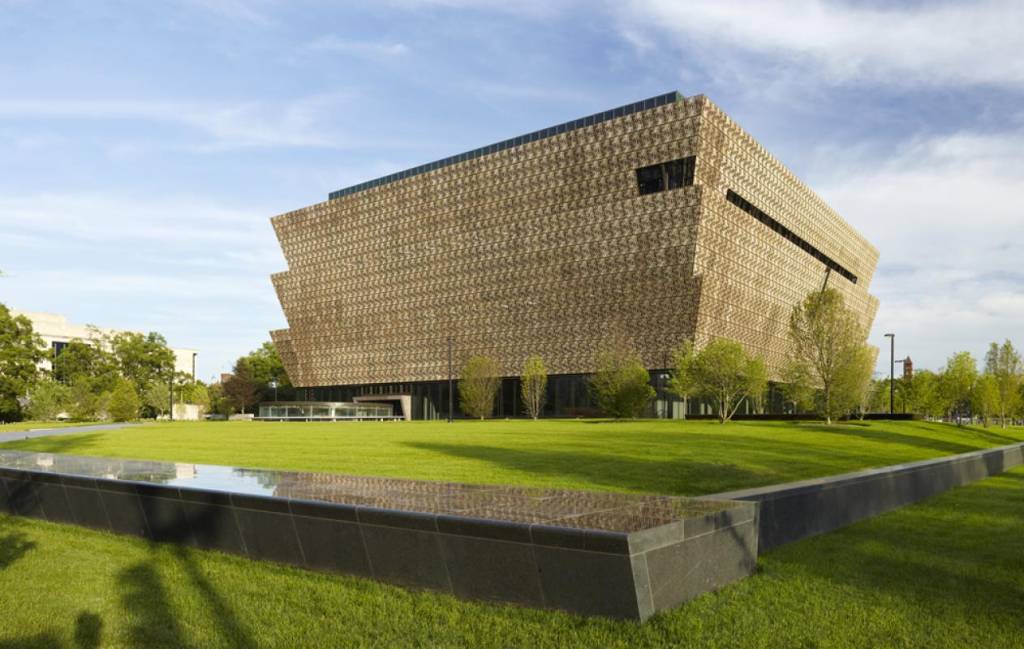 I HAVE A DREAM
Satisfeito de museus, contornei o obelisco de George Washington, visível de quase qualquer parte próxima ao The Mall, e estiquei a caminhada até o Jefferson Memorial, um panteão neoclássico que abriga a estátua de bronze de 5,8 metros de Thomas Jefferson. Washington e Jefferson foram dois dos sete fundadores dos Estados Unidos – e, respectivamente, o primeiro e o terceiro presidentes do país. Washington virou o nome da capital e a efígie da nota de U$ 1. Jefferson, principal autor da Declaração de Independência dos EUA, estampou a rara cédula de U$ 2. Divisando algumas cerejeiras em flor na paisagem, voltei para a esplanada principal do The Mall até encontrar o Martin Luther King, Jr. Memorial, no qual o ativista dos direitos dos negros irrompe esculpido de uma pedra de 9 metros de altura. Em 2011, Obama em pessoa inaugurou o monumento, que é cercado de paredes com fases dos discursos de King.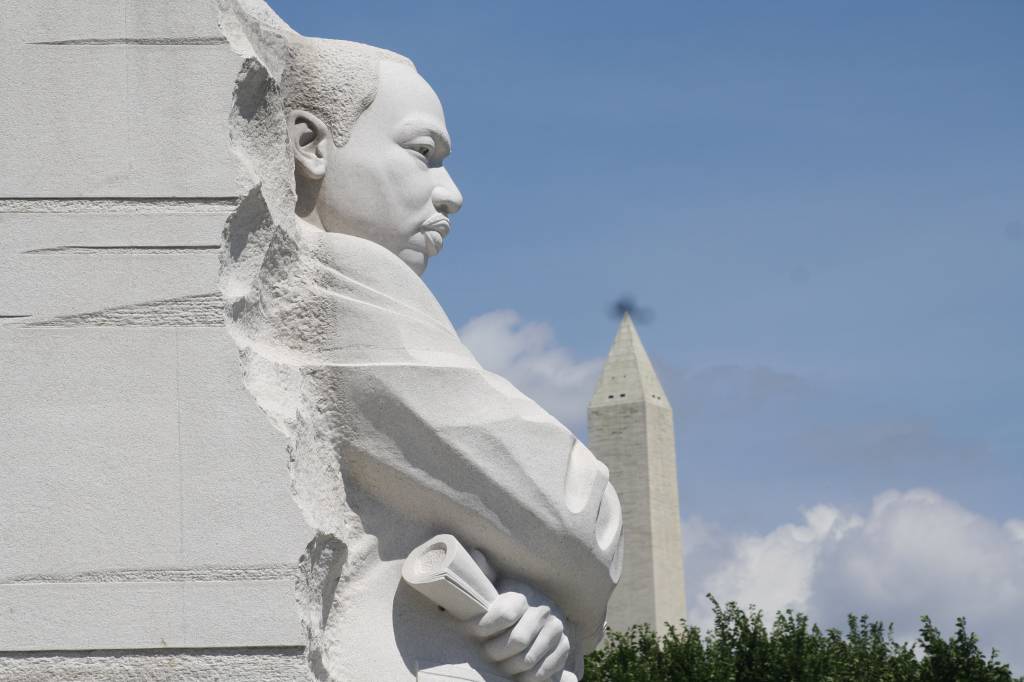 E foi logo adiante no The Mall, passando o longo espelho-d'água aos pés do Lincoln Memorial, que o líder negro fez seu discurso mais famoso. Na escadaria do opulento templo grego onde se encontra a estátua de Abraham Lincoln, Luther King disse, em 1963: "Eu tenho um sonho que meus quatro filhos um dia viverão numa nação onde eles não serão julgados pela cor de sua pele, mas pelo conteúdo de seu caráter." As crianças certamente cresceram em uma nação menos segregadora, mas sem a presença do pai, assassinado quatro anos depois daquela fala.
Dentro do memorial, as atenções se voltam a Lincoln, aboletado em um trono e bastante sério nas feições. Esculpida em mármore, a escultura pesa 170 toneladas e mede 9 metros, revelando-se bem maior pessoalmente que por foto. À noite, o horário preferido dos habitués, as luzes emprestam um charme extra dentro e fora do memorial, que tem uma vista absurda para o espelho-d'água e o The Mall. Lincoln, 16º presidente dos Estados Unidos, liderou o país durante a Guerra Civil, que acabou com a escravidão. Não por acaso, foi eternizado na nota de U$ 5 e virou cenário do discurso de Luther King.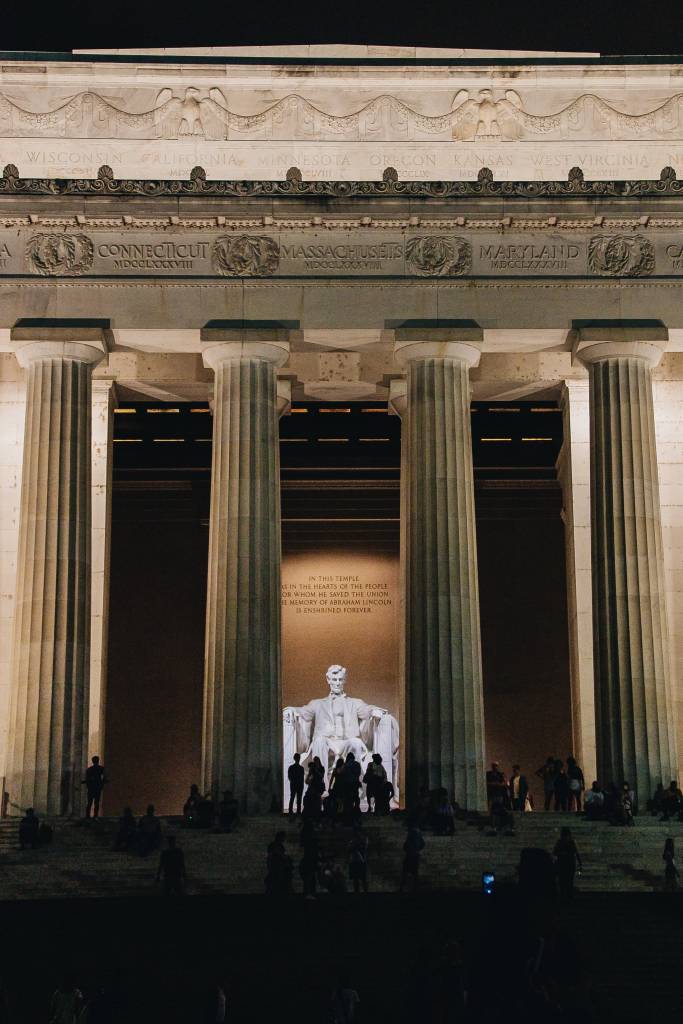 À esquerda do monumento a George Washington, o The Ellipse Park permite entrever o gramado sul da Casa Branca, assim como a parte posterior central do palacete, com a varanda arredondada de dois andares. Em uma pernada de três longas quadras contornando o jardim e repartições públicas exteriores à propriedade, chega-se à Pennsylvania Avenue, de frente para a antiga residência presidencial de Trump, Obama, Reagan, Bush pai e Bush filho, Bill Clinton e o novo endereço de Joe Biden.
Cidadãos americanos conseguem visitar a Casa Branca por meio de agendamento com um deputado do Congresso, mas os estrangeiros precisam fazer uma solicitação à embaixada de seu país em Washington, meses antes. Ou seja, dá um trampo visitar. Do lado de fora, grades de ferro isolam os portões dos observadores, mas a vista do edifício é totalmente desimpedida e não há truculência policial. Fechada para carros, a rua que separa a Casa Branca da Lafayette Square é uma diversão à parte, agitada pelos mais diferentes protestos – quando estive lá, um grupo religioso bradava contra a circuncisão em bebês e crianças.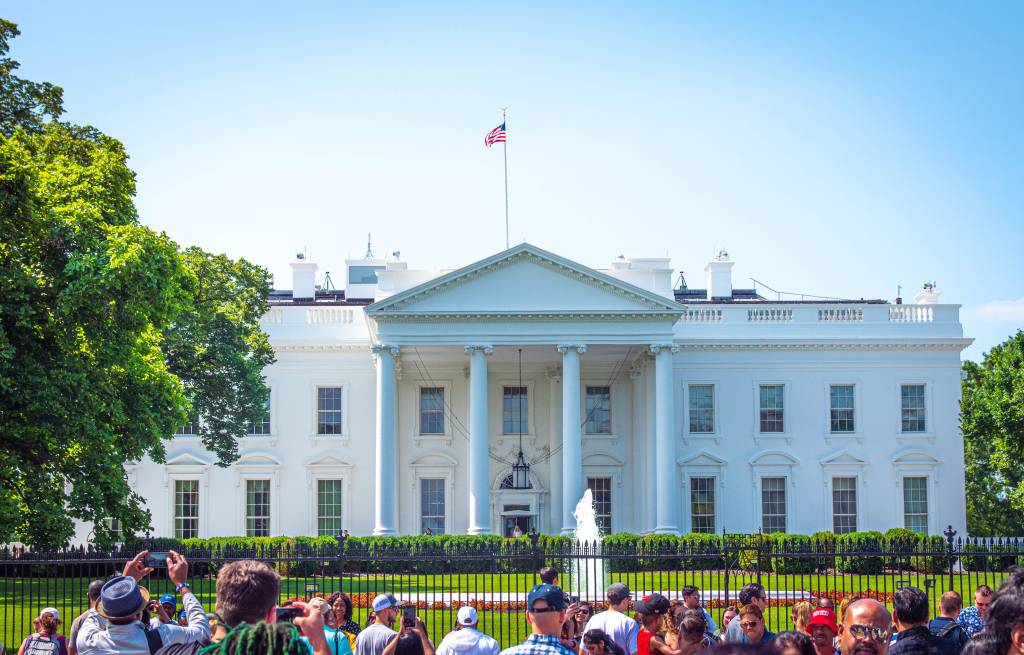 BELEZA AMERICANA
No outro extremo do The Mall, o Capitólio é o segundo ícone mais visível de Washington – bem mais baixo que o monumento a George Washington (169 metros), mas um tanto elevado pelo morro onde se encontra e muito chamativo no horizonte com sua cúpula clássica. A chegada à parte interna do edifício se dá abaixo do nível da rua, no imponente hall do Visitor's Center, grande o suficiente para ser uma bilheteria de estádio, mas chique e suntuoso como um shopping de luxo. As visitas são cheias e concorridas, por isso é preciso reservar com pelo menos um mês de antecedência no site visitthecapitol.gov ou retirar a entrada avulsa no próprio dia, sujeita a espera, no balcão de informações do andar inferior do Visitor's. Para conhecer as galerias do Senado e da Câmara, porém, é necessário um agendamento extra nos balcões de atendimento do Legislativo, no nível superior também do Visitor's.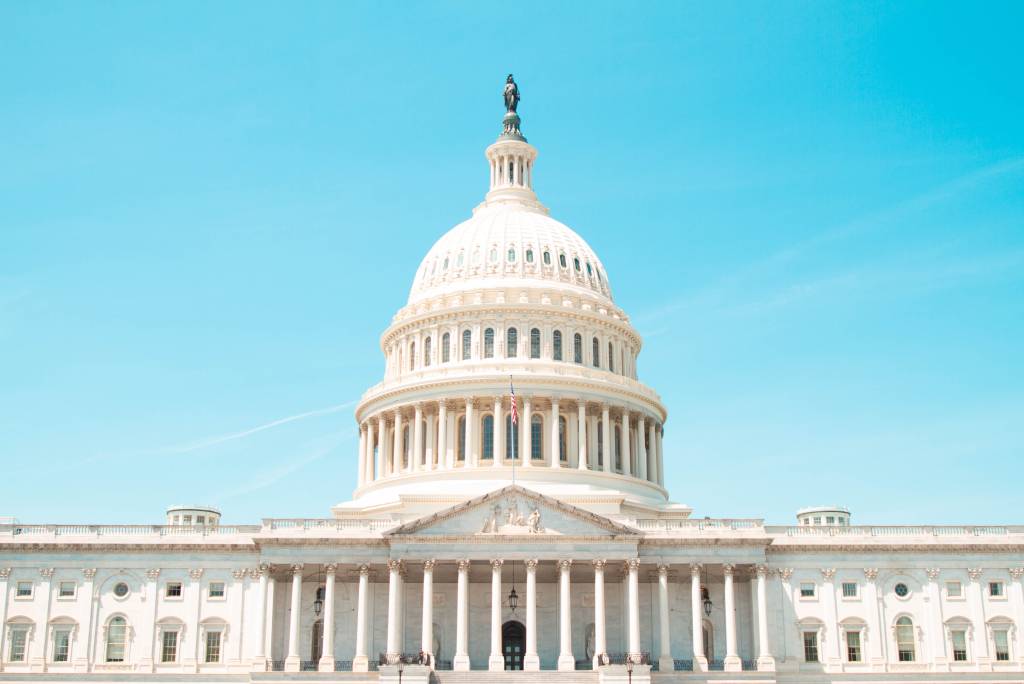 O tour regular do Capitólio começa num anfiteatro amplo e confortável, onde rola o filme Out of Many, One (De Muitos, Um), tradução em inglês do latim E pluribus unum, mote do Grande Selo dos Estados Unidos. A seguir, a plateia é dividida em grupos, cada qual com sua guia. Ela distribui fones de ouvidos e conduz a turma com pulso firme – é proibido tocar nas estátuas do percurso. O passeio adentra três espaços: a Cripta, que, apesar do nome, não guarda restos mortais, mas 40 colunas dóricas e 13 estátuas alusivas às Treze Colônias inglesas; o National Statuary Hall, uma sala semicircular com piso e capitéis coríntios de mármore e esculturas de congressistas americanos desconhecidos dos brasileiros; e a Rotunda do Capitólio, a parte interna do domo de 15 metros que é a marca do prédio.
Iluminada pela luz natural das 36 janelas que a circulam, a Rotunda é adornada com o afresco A Apoteose de Washington no teto, 19 cenas da história americana em um friso que imita baixos-relevos, óleos históricos como a Declaração da Independência e estátuas de vultos da política (Washington, Lincoln, Eisenhower, Ford…). Na posteridade, Bush pai, Bush filho, Clinton, Obama e Trump deverão ganhar estátuas no Capitólio, resta saber se algum deles na nobre sala da Rotunda.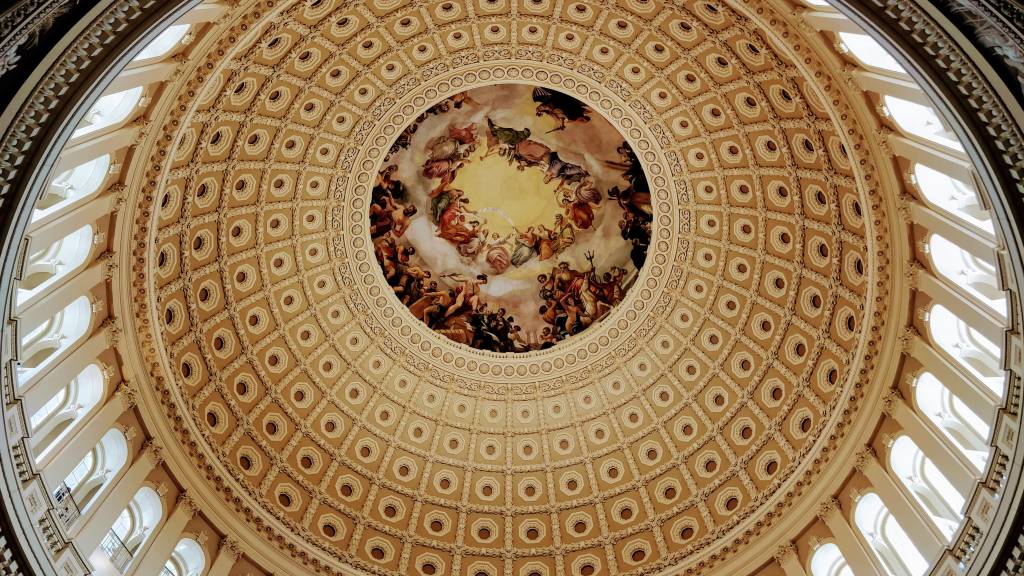 Meus dias em Washington terminaram ao sul do The Mall, onde estão as cerejeiras do East Potomac Park. Sobre as cerejeiras, aliás, faltou dizer que elas foram um presente da prefeitura de Tóquio, em 1912. Hoje, a floração na cidade é tema do festival National Cherry Blossom Festival, a maior celebração da primavera americana. Do outro lado do Canal Washington (extensão do Rio Potomac), encontra-se o The Wharf, um bairro moderno contíguo à marina e que lembra os harbours de Sydney, o Tjuvholmen de Oslo e o Puerto Madero de Buenos Aires. A
fórmula – infalível – é mais ou menos a seguinte: caixotes baixos e modernos de uso híbrido, com um idílico promenade e variadas opções de alimentação e lazer no perímetro. Pois o The Wharf de Washington, acessível pela estação Waterfont do metrô, tem desde a manjada rede de hambúrgueres Shake Shack até o restaurante mexicano Mi Vida, passando pela sorveteria local Dolcezza e a casa de shows The Anthem. O distrito é um ponto badalado para curtir o fim de tarde da capital. Mas daria para fazer algo parecido na Marina da Glória, por exemplo. O que existe em D.C. que, infelizmente, estamos longe de conseguir copiar, é reunir tantos vultos, histórias e conquistas dos quais se orgulhar.
Busque hospedagem em Washington
Resolva sua viagem aqui
Continua após a publicidade
Fonte: Viagem e Turismo