Os parques da Disney anunciaram que, entre setembro e outubro de 2021, o serviço gratuito do FastPass será substituído pelo sistema digital pago Genie. O grupo já tinha falado sobre o desenvolvimento dessa nova ferramenta em 2019, mas só revelou na quinta-feira (19) quando a novidade chegará ao Walt Disney World de Orlando e à Disneyland da Califórnia. Entenda como a mudança afetará os visitantes:
Como funcionava o FastPass?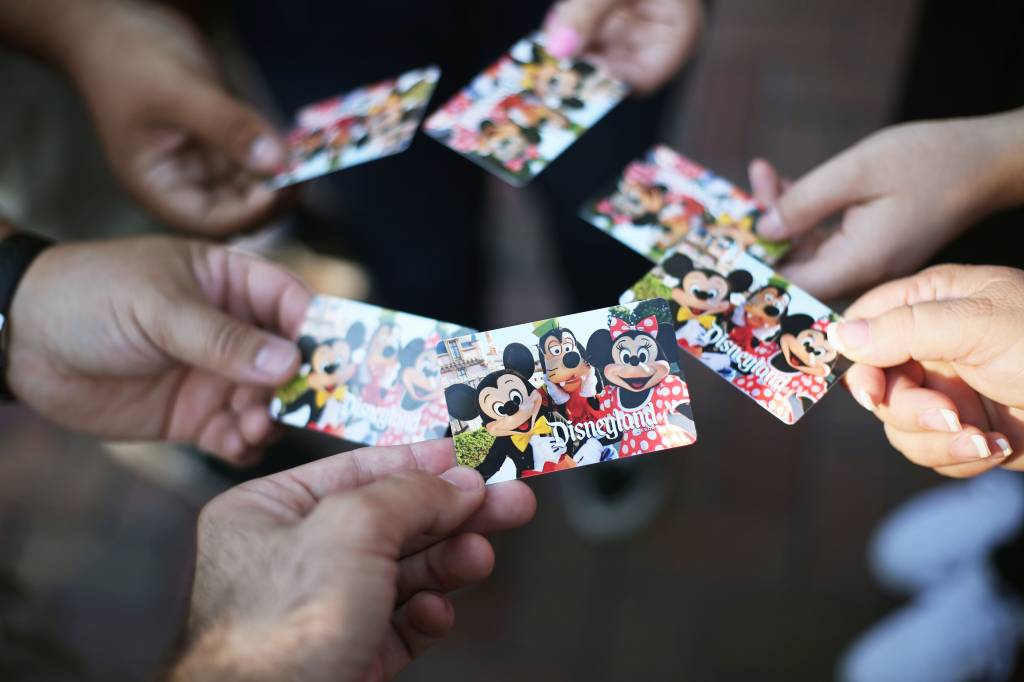 Os ingressos ao Walt Disney World ou à Disneyland davam automaticamente direito a visitar, por dia, até três atrações de um mesmo parque com horário marcado. A reserva podia ser feita com antecedência pelo aplicativo My Disney Experience ou através dos totens que ficavam espalhados pelo complexo.
Quando chegava o horário agendado, os visitantes tinham um prazo de uma hora para se dirigir ao brinquedo, show ou encontro com personagem, onde o acesso seria feito por uma fila especial do FastPass. Isso significava entrar em menos de 15 minutos nas atrações concorridas, onde as esperas "comuns" ultrapassam facilmente os 60 minutos.
E ainda tinha um pulo do gato: caso sobrasse tempo depois de usar os três primeiros "fura-filas", era possível marcar novos, desde que os agendamentos fossem feitos um de cada vez. Ou seja, você só podia agendar o quinto depois que usasse o quarto, e assim por adiante. Tudo isso sem custos adicionais.
Como funcionará o Genie?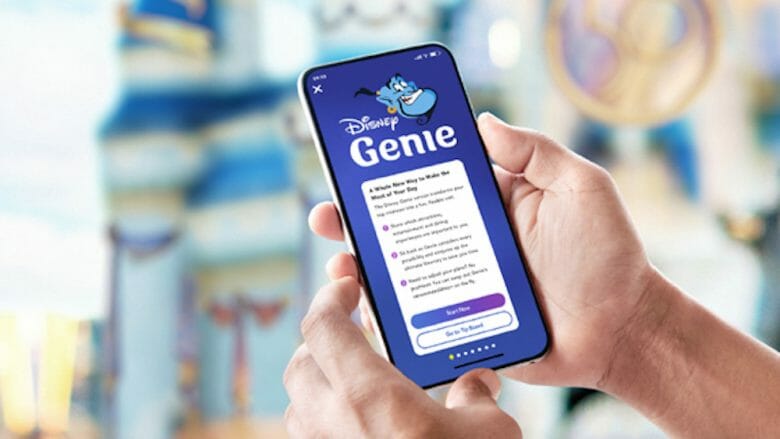 Tirando a questão da cobrança, a principal diferença entre o Genie e o FastPass é que o novo sistema digital fará uma distinção entre atrações consideradas mais ou menos concorridas.
Os visitantes terão direito a visitar, por dia, até dois brinquedos classificados como disputados com horário marcado. O preço vai variar de acordo com a data e a atração escolhida.
Para "furar a fila" dos brinquedos, shows e encontros com personagens que forem considerados menos concorridos, será necessário pagar um valor fixo de US$ 15 por dia e por pessoa em Orlando e de US$ 20 por dia e por pessoa na Califórnia.
Nesse caso, não haverá um limite diário de atrações, mas os agendamentos deverão ser feitos um de cada vez. Ou seja, você só poderá agendar o segundo depois de usar o primeiro, e assim por diante.
Nos dois casos, os visitantes deverão fazer as reservas no próprio dia em que pretendem usar o serviço. Para que os turistas tomem decisões mais acertadas, o Genie vai informar não apenas o tempo de espera atual como também uma previsão de espera em horários futuros.
Outra mudança é que agora será possível agendar visita a atrações de parques diferentes. Isso pode ser interessante para quem adquire o ingresso Park Hopper, que permite visitar mais de um parque por dia.
Por fim, os visitantes continuarão tendo o prazo de uma hora para se dirigir ao local, onde o acesso será feito por uma fila especial batizada de Lightning Lane. 
Em quais atrações vale a pena investir o Genie?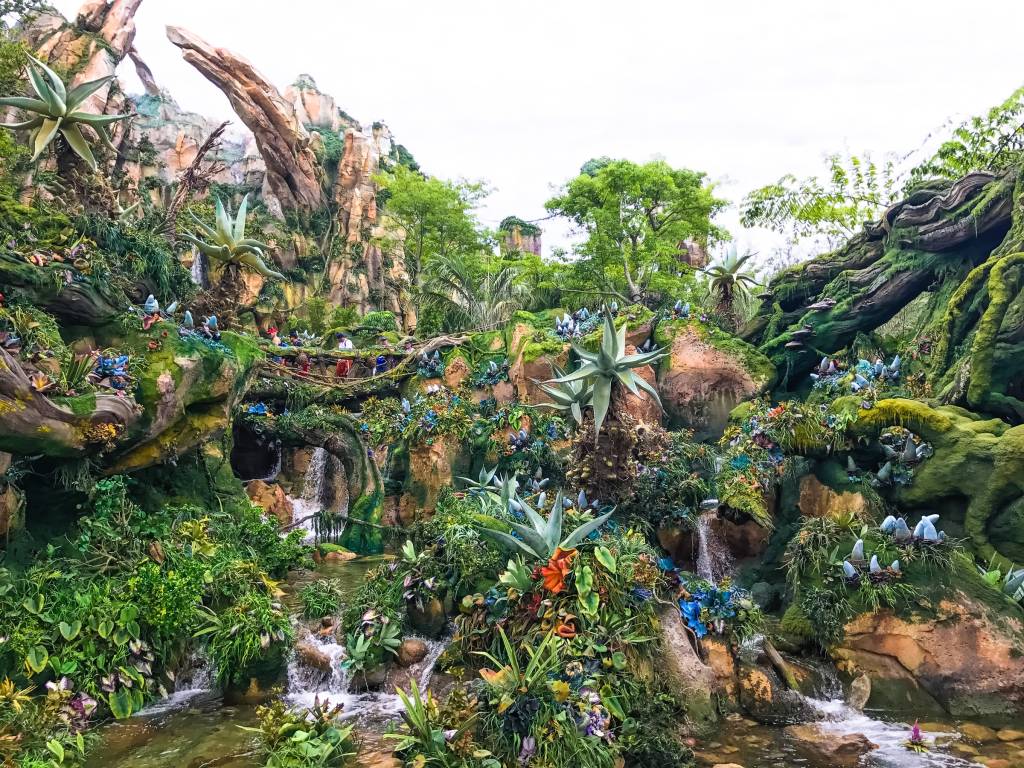 A Disney ainda não divulgou a lista de atrações que serão consideradas mais ou menos concorridas pelo Genie, mas existe uma noção geral sobre os brinquedos que tendem a ter mais filas em cada parque.
Comecemos pelo Walt Disney World em Orlando. No Magic Kingdom, a montanha-russa dos sete anões, a Seven Dwarfs Mine Train, sempre tem uma espera considerável. Ainda que em menor nível, também podem ficar concorridos o Space Mountain e o Big Thunder Mountain. Se estiver com crianças, talvez você prefira investir no fura-filas para conhecer a Cinderella ou a Rapunzel.
No Epcot, o surto coletivo pelas personagens Elsa e Anna se traduz em filas gigantescas no Frozen Ever After, brinquedo que acaba sendo imperdível até para quem não sabe quem são as duas por causa dos efeitos visuais modernos. Também são concorridos o clássico Soarin', o Spaceship Earth e o Mission: Space.
Dentre as atrações do Hollywood Studios, a área temática Star Wars: Galaxy Edge ainda é novidade, então espere uma quantidade considerável de velhos e novos fãs da saga esperando para embarcar na Millennium Falcon. Em compensação, ninguém fica de pé aguardando para entrar no Rise of The Resistance, que tem fila virtual. Assim sobra "Genie" para usar no Mickey & Minnie's Runaway Dash, outra novidade do pedaço, na Rock 'n Roller Coaster, montanha-russa do Aerosmith, ou na Tower of Terror, que é cartão-postal do parque.
O Animal Kingdom encerra a lista com dois brinquedos disputados em Pandora, a área de Avatar: Flight of Passage e Na'Vi River Journey. Porém, outras atrações importantes são o safári e a montanha-russa Expedition Everest.
Devido à proximidade com Los Angeles, os dois parques da Disneyland da Califórnia podem ficar bem cheios aos finais de semana. No principal, vale priorizar a Millennium Falcon, mas outras atrações quem podem ter fila são a Matterhorn Bobsleds, Indiana Jones Adventure, Hyper Space Mountain e Big Thunder Mountain.
No Adventure Park, o brinquedo mais disputado é sem dúvidas o Radiator Springs Racers, mas considere usar o fura-filas na Incredicoaster, no Soarin' ou no Guardins of the Galaxy – Mission: BREAKOUT!
Outros recursos do Genie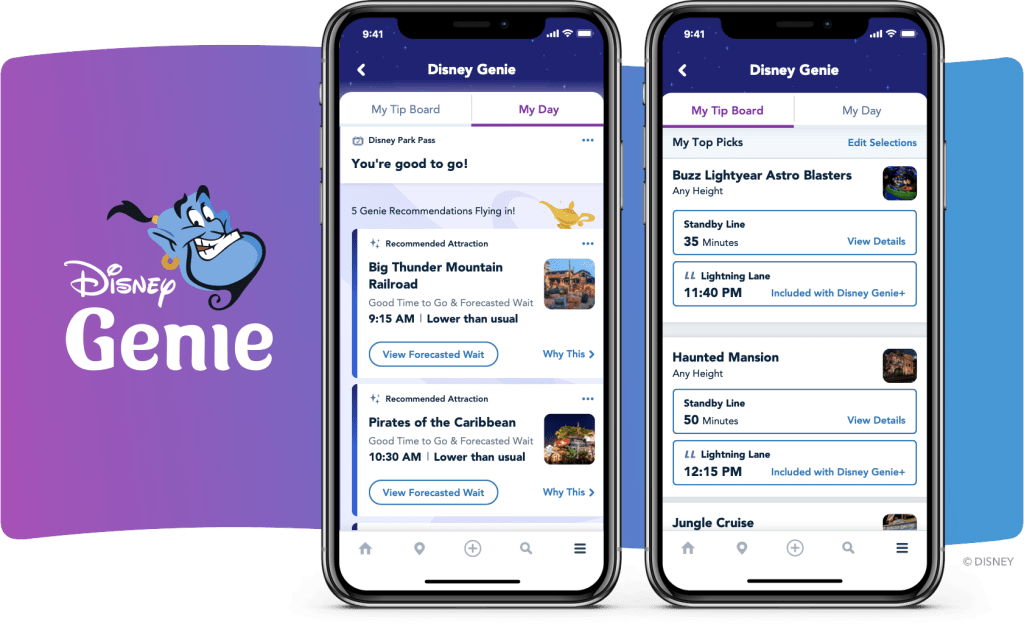 O Genie também criará roteiros personalizados com base em preferências selecionadas pelos visitantes. Vamos supor que você seja um grande fã das princesas da Disney. Nesse caso, o sistema pode sugerir que você curta o brinquedo da Pequena Sereia, que está com pouca espera naquele momento, e depois siga para um almoço no restaurante de a Bela e a Fera. O "roteiro" vai sendo alterado automaticamente conforme as condições dos parques mudam.
Além disso, como já mencionamos acima, o próprio visitante pode ir conferindo como estão as filas naquele momento e a previsão em horários futuros para otimizar o seu tempo no parque. A montanha-russa da Branca de Neve está com 60 minutos de espera agora, mas à tarde o tempo vai aumentar para 90? Melhor correr para lá agora e deixar o almoço para depois. Esses recursos serão totalmente gratuitos, bastando baixar o aplicativo.
Fonte: Viagem e Turismo