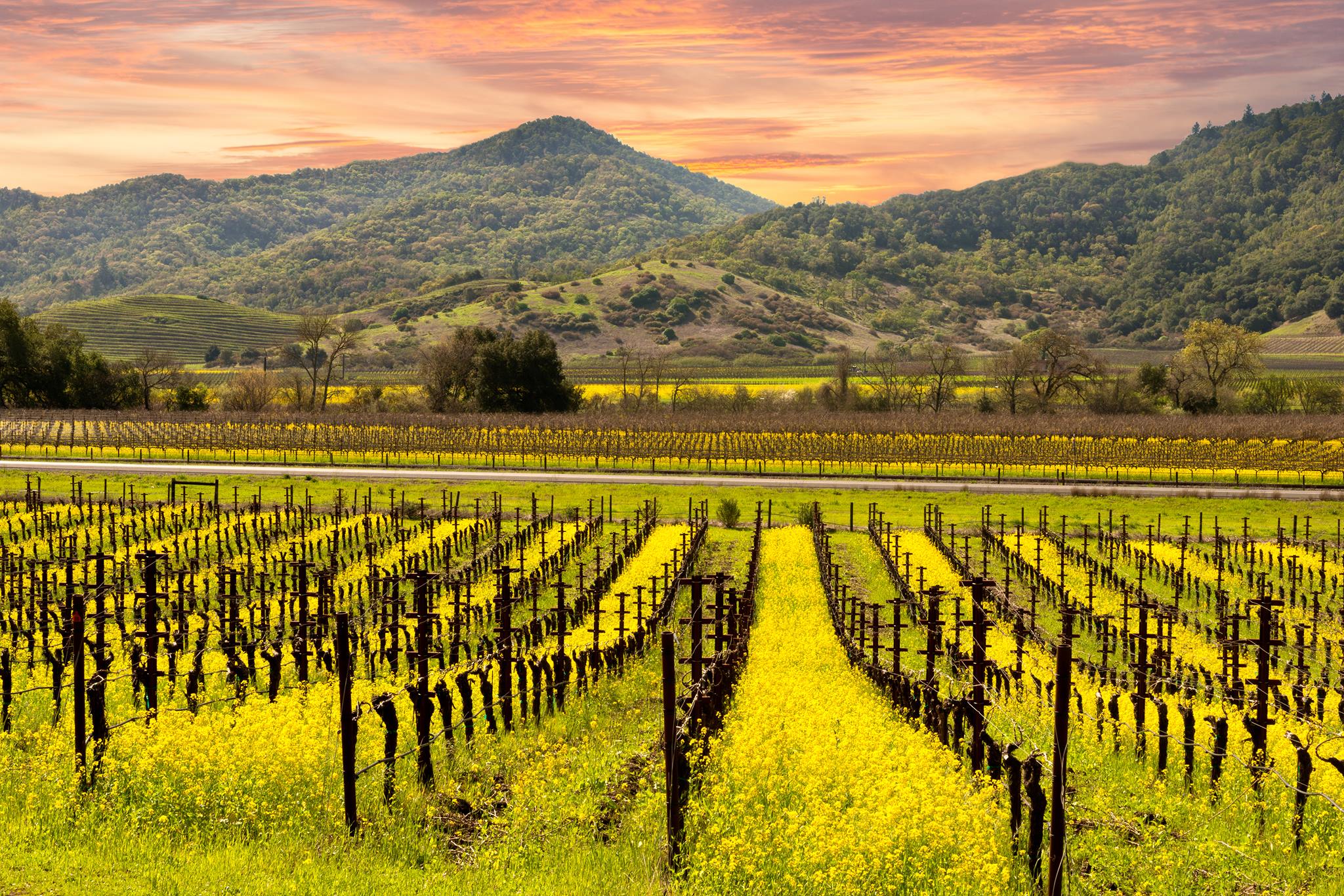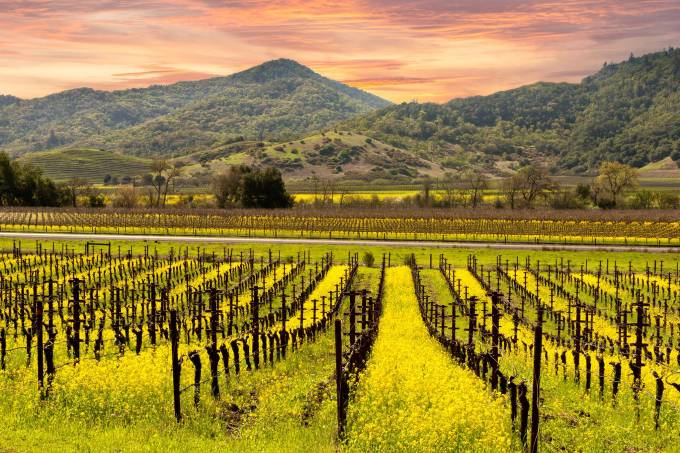 Paris, 1976. Dono de uma loja de vinhos, o inglês Steven Spurrier resolveu promover uma degustação às cegas com chardonnays e cabernet sauvignons da França e dos Estados Unidos. À mesa se sentaram jurados como Aubert de Villaine, coproprietário do Domaine de la Romaneé-Conti. Conforme os connoisseurs bebiam, a confusão foi se instalando. "Ah, voltamos para a França", teria dito o restaurateur Raymond Oliver, após testar um chardonnay californianíssimo. Anunciada a vitória do Chateau Montelena, de Napa Valley, entre os brancos, o júri passou aos tintos. O vencedor, para espanto geral, foi outro vinho de Napa, o cabernet 1972 da Stag's Leap. O evento que inspiraria o filme O Julgamento de Paris (2008) deu um status inédito aos vinhos do Novo Mundo, colocando Napa Valley no mapa da vinicultura mundial, assim como a sua vizinha Sonoma – o chamado Wine Country dos Estados Unidos.
Napa Valley
Ao longo de 45 quilômetros, Napa Valley é cortada por uma rodovia plana com pista simples e parreirais dos dois lados, interrompidos apenas pelas cidades de Napa, Yountville, Santa Helena e Calistoga. Definida como uma Wine Trail, a St. Helena Highway é movimentada, e mesmo os acessos às vinícolas terminam em estacionamentos cheios, sobretudo no verão. É o caso do popular Castello di Amorosa, atração que visitei com ceticismo por emular uma construção medieval. Para minha surpresa, o castelo é feliz no seu intento, especialmente na adega e no tasting room subterrâneos. E seus cabernet sauvignons – na verdade, de quase toda Napa – são realmente bons.
A tradição vinícola do vale é muito anterior ao Julgamento de Paris. A Beringer, por exemplo, foi fundada em 1876 e mantém um casarão de 1883 com uma gostosa varanda para degustação. O condado produz só 4% dos vinhos americanos, mas alguns deles já figuraram no topo do ranking dos melhores vinhos da Wine Spectator. No Brasil, os californianos premium vão parar nas importadoras, relegando aos supermercados linhas populares como a Woodbridge, da Robert Mondavi.
No mesmo terroir onde crescem as uvas do Peter Michael Au Paradis, em Oakville, o guia da vinícola Mondavi me disse que seu cabernet top era melhor até que o vinho icônico de Napa, o Opus One. Ufanismo? Talvez não, já que a Mondavi tem sociedade na Opus com o Château Mouton Rothschild, famoso premier grand cru da França. A Opus One fica em frente à Mondavi e produz um único vinho, o mais presunçoso dos Estados Unidos. Em um dia inteiro de vinícolas, além da Opus One, da Mondavi, da Beringer e da Amorosa, eu visitei a Chandon, que tem um bar-restaurante hypado, e a V. Sattui, a vinícola mais popular de Napa por causa de seu empório com queijos, salames e sanduíches. Ali mesmo os visitantes fazem do piquenique o almoço do dia. Não que a gastronomia de Napa dependa disso. No Guia Michelin costumam constar pelo menos uma dezena de estrelados na região, sendo que o The French Laundry, do chef Thomas Keller, é uma presença constante. O restaurante fica em Yountville, uma graciosa cidadezinha apelidada de YountVegas por causa do dinheiro grosso que circula por lá. Já Napa é uma típica cidade do interior americano, mas charmosa e muito fotogênica à noite, com suas luzes refletidas no Rio Napa Creek.
Quando o vinho for demais, você pode fazer um passeio que o deixará mais alto do que deixaria o pior tinto de São Roque. De balão, à mercê do vento e do condutor Ross, eu e dois casais cinquentões subimos 500 metros acima de Yountville, de onde pudemos admirar o parreiral rasgado pela estrada. Atrás da silhueta de montanhas, o sol nascente aquece o vale com uma luz preguiçosa, enquanto as listras das vinhas formam um grande veludo verde, cercado por bairros que revelam os extratos sociais de Napa: casas com jardim e piscina ao estilo Desperate Housewife, caixotes com telhados de zinco da classe trabalhadora. Habilidoso, o condutor diminuiu a altitude para que roçássemos a mão no topo de uma árvore. "Aposto que nunca ninguém tocou aí", ele brincou.
Sonoma
Meus dias no Wine Country, na verdade, começaram pelo Condado de Sonoma, uma região vinícola mais extensa e rural do que Napa. Se Sonoma perde nos vinhos, ganha nas paisagens. A área é atravessada por duas rodovias, a estradinha CA-12, cercada de vinhas, e a grande Highway 101, da qual saem acessos asfaltados a 17 vales viníferos. Hospedado no Vintners Inn, uma pousada provençal de Santa Rosa, decidi estender a experiência etílico-campestre num tour de bike que lembrou o filme Sideways (2004), outro difusor dos vinhos dos Estados Unidos. Ao lado do guia Randy, chegamos de van ao Dry Creek Valley e, de lá, pedalamos por caminhos vicinais em meio ao parreiral carregado.
Paramos numa vinícola tão despojada que seu proprietário, um ex-executivo, nem sequer se deu ao trabalho de checar a grafia da palavra espanhola "amistad" (amizade), batizando o lugar de Amista, sem o "d". O fato de o guia Randy ter uma amistad colorida com a gerente acabou por fazer da degustação uma abundância. Aboletados em cadeiras de ferro sob uma árvore frondosa, observávamos o parreiral enquanto as taças eram completadas sete, oito vezes, dificultando sobremaneira a pedalada na volta. Foi só no dia seguinte que, com o pH mais equilibrado, eu saí para visitar uma produtora-chave de Sonoma, a Coppola. Num casarão com piscina à Riviera Francesa, a vinícola do cineasta americano é feita para atender enófilos e cinéfilos, vide a mesa de Vito Corleone e o figurino de Drácula de Bram Stoker (1992). Os concorridos winebars dividem as atenções com a caprichada loja de vinhos e artigos vintage, de onde é difícil sair de mãos abanando.
ENÓLOGO, EU?
Tutorial para você fazer bonito nos tasting rooms
1. A degustação começa com os brancos, vai para os tintos leves, os potentes e termina nos adocicados. Se te perguntarem que vinho prefere, não se apavore: "The good ones" ("Dos bons") encerra o assunto.
2. Erga a taça pela haste e rotacione com firmeza. Usando a força centrífuga, faça a bebida girar no bojo, mas sem atirar vinho para fora, o que seria muito tosco da sua parte.
3. Incline a taça, erga-a contra a luz e observe a cor. Ao emitir sua opinião, use termos rebuscados: em vez de amarelo e roxo, use palha e rubi.
4. Cheire a bebida sem fazer sons nasais. Afaste a taça e diga de forma assertiva alguns aromas, mesmo sem ter identificado nenhum: pêssego sempre funciona com os brancos, e frutas vermelhas, com os tintos.
5. "Porran, não vou beber esse vinho nunca?", você há de se perguntar. Pois chegou a hora. Sirva um pouco da bebida, mas, antes de engolir, passeie-a pela boca e bocheche com vigor, devagar, vinho não é Listerine. Solte os primeiros comentários: "frutas secas" para os brancos e "framboesa" para os tintos estão ok.
6. Rodopie, cheire e sirva um gole maior. Vá agora de maçã verde para os brancos e amora para os tintos.
7. Se a degustação incluir várias taças, o vinho que você está tomando é um branco meia-boca. Não beba mais dele. Quando chegar o branco top, aí, sim, mate a taça. Com os tintos, a mesma coisa: só seque os bons.
8. Se a degustação for só de duas ou três taças (não é barato), pode beber tudo de todos, e Deus te abençoe.
9. O clímax se dá no melhor tinto (o mais caro). Girou, cheirou, bebeu? Solte as pérolas. A moda é acrescentar "definitivamente", como no exemplo "anis, definitivamente anis" para os tintos. Confiante? Meio breaco também? Então ouse. "Palito de sorvete chupado", "Tampa de caneta Bic"… Ah, muleke, que orgulho!
Onde ficar
O Andaz fica bem no centrinho de Napa, enquanto o Vintage House e o charmoso Maison Fleurie estão na vizinha Yountville. Na dúvida, o Winery Inn fica na St. Helena Highway, no meio do caminho entre uma cidade e outra. Em Sonoma, o Vintners Inn é cercado de vinhas a dez minutos de Santa Rosa. O Petaluma, na cidade homônima, tem bom custo/benefício.
Onde comer
Em Santa Helena, o The Restaurant possui histórico de estrelas Michelin pelo seu menu fechado de culinária americana moderna. Em Yountville, tem clima de bistrô francês o Bouchon, do chef Thomas Keller, e o Bistro Jeanty, de preços mais modestos. Em Napa, o Bounty Hunter é um animado wine-beer bar. Sonoma também tem seus estrelados no Michelin, como o Farmhouse Inn, em Forestville. Menos caro, o peruano Sazón fica em Santa Rosa, mesma cidade da cervejaria Russian River, da famosa Pliny the Elder.
Busque hospedagem no Napa Valley
Continua após a publicidade
Fonte: Viagem e Turismo