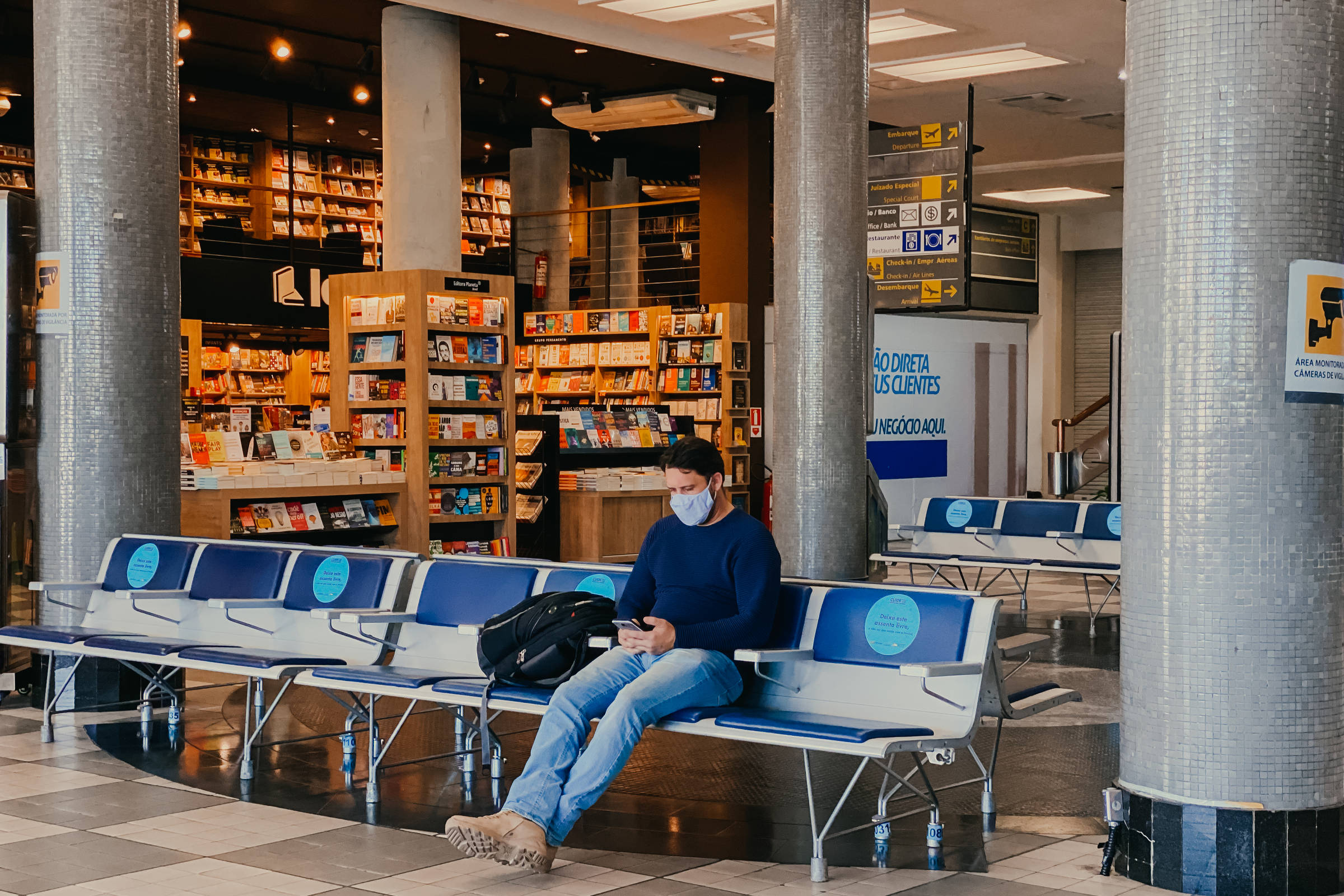 ​​Viajar de avião significa ficar em um local fechado com pessoas desconhecidas que podem ou não estar infectadas com o novo coronavírus. Mas, com o sistema de filtragem do ar das aeronaves e o uso de máscara, o risco de transmissão é reduzido.
O ar da cabine é renovado a cada três minutos. Metade desse fluxo vem de fora do avião e metade passa por filtros Hepa, sistema de alta eficiência que retém 99,9% dos vírus.
Além disso, não há correntes de vento no sentido do comprimento da aeronave. O ar sai do teto e flui para aberturas no chão, circulando praticamente dentro da mesma fileira de assentos.
Esse sistema garante ao passageiro um risco menor de contrair a Covid-19 do que no metrô ou numa sala de aula. É o que diz um artigo publicado neste mês na revista científica Jama (Journal of the American Medical Association) por pesquisadores de instituições dos EUA e da Suíça.
Os autores afirmam que, em todo o mundo, os casos suspeitos ou confirmados de transmissão do Sars-Cov-2 durante viagens de avião são aproximadamente 42.
Mas o artigo ressalta que, ainda assim, existe o perigo de contágio a partir do contato direto com um passageiro infectado, que é reduzido pelo uso de máscaras.
"O risco é baixo, mas não é zero. Onde há pessoas há risco de transmissão", diz Gustavo Johanson, infectologista especializado em medicina do viajante do Hospital Israelita Albert Einstein.
Segundo ele, quem se senta ao lado, à frente ou atrás de alguém doente tem mais probabilidade de se infectar.
Além de tornar obrigatório o uso de máscaras, as três grandes companhias nacionais, Gol, Latam e Azul, reorganizaram o embarque e o desembarque —que agora é feito por fileiras para evitar tumulto na saída do avião.
As cabines passam por limpeza a cada viagem feita, e o serviço de bordo foi simplificado ou suspenso em voos de curta duração. Nenhuma das empresas brasileiras, porém, restringiu a ocupação das aeronaves —a americana Delta, por exemplo, anunciou que adotará a política de assentos do meio vazios até janeiro.
A própria Iata (Associação Internacional de Transporte Aéreo) não apoia a medida, porque a considera economicamente inviável.
A lotação do avião foi a maior preocupação do advogado Leonardo Zanutto, 55, ao viajar a Londrina, partindo do aeroporto de Guarulhos, para fazer um tratamento odontológico no início de setembro.
Ele conta que, tanto na ida quanto na volta, todos tiveram a temperatura medida antes de entrar na aeronave e que houve organização no embarque e no desembarque. "O problema foi ter que me sentar ao lado de outra pessoa. Não dá para manter o distanciamento."
Um estudo da MIT Sloan School of Management (EUA) avaliou que deixar a poltrona do meio livre pode reduzir a chance de infecção pelo Sars-Cov-2 quase à metade: de 1 em 4.300 para 1 em 7.700.
Para chegar a esse cálculo, o professor de estatística Arnold Barnett levou em consideração viagens de até duas horas realizadas nos Estados Unidos em aeronaves com três poltronas de cada lado, onde todos estejam usando máscara.
A probabilidade de contaminação diminui em voos feitos em países com poucos casos de Covid-19 e aumenta em viagens mais demoradas.
"Em voos longos, as pessoas podem perder o instinto de vigilância e acabar se desprecavendo", afirma a virologista Jordana Coelho dos Reis, do Instituto de Ciências Biológicas da UFMG (Universidade Federal de Minas Gerais).
O risco também cresce por causa da necessidade que os passageiros têm de se alimentar, o que requer a retirada da máscara, e de ir ao banheiro, aumentando a movimentação dentro da cabine.
Quem se senta na poltrona da janela e não sai do lugar durante o voo tem uma menor probabilidade de se contaminar, porque reduz as chances de contato com um indivíduo infectado, afirma a infectologista Tânia Chaves, coordenadora do comitê de medicina de viagem da Sociedade Brasileira de Infectologia.
O ideal é que o viajante evite comer a bordo. Se isso for mesmo preciso, ele não deve se alimentar ao mesmo tempo que os passageiros à sua volta.
A médica recomenda que pessoas do grupo de risco usem máscara tipo N95 se precisarem voar. Os demais viajantes podem optar pela máscara de tecido ou cirúrgica e trocá-la sempre que ficar umedecida. Também deve ser constante a higiene das mãos.
Para Reis, antes de decidir pela viagem de avião é fundamental avaliar todas as etapas do trajeto, desde a saída de casa. "A viagem pode ter sua importância, porque o isolamento gerou processos mentais difíceis. Ela é válida, desde que seja feita de maneira segura e mais rápida possível."
Já Chaves afirma que a recomendação é fazer apenas viagens essenciais. "Pior que adoecer é adoecer longe de casa", diz ela, que também é professora da UFPA (Universidade Federal do Pará).
Fonte: Folha de S.Paulo