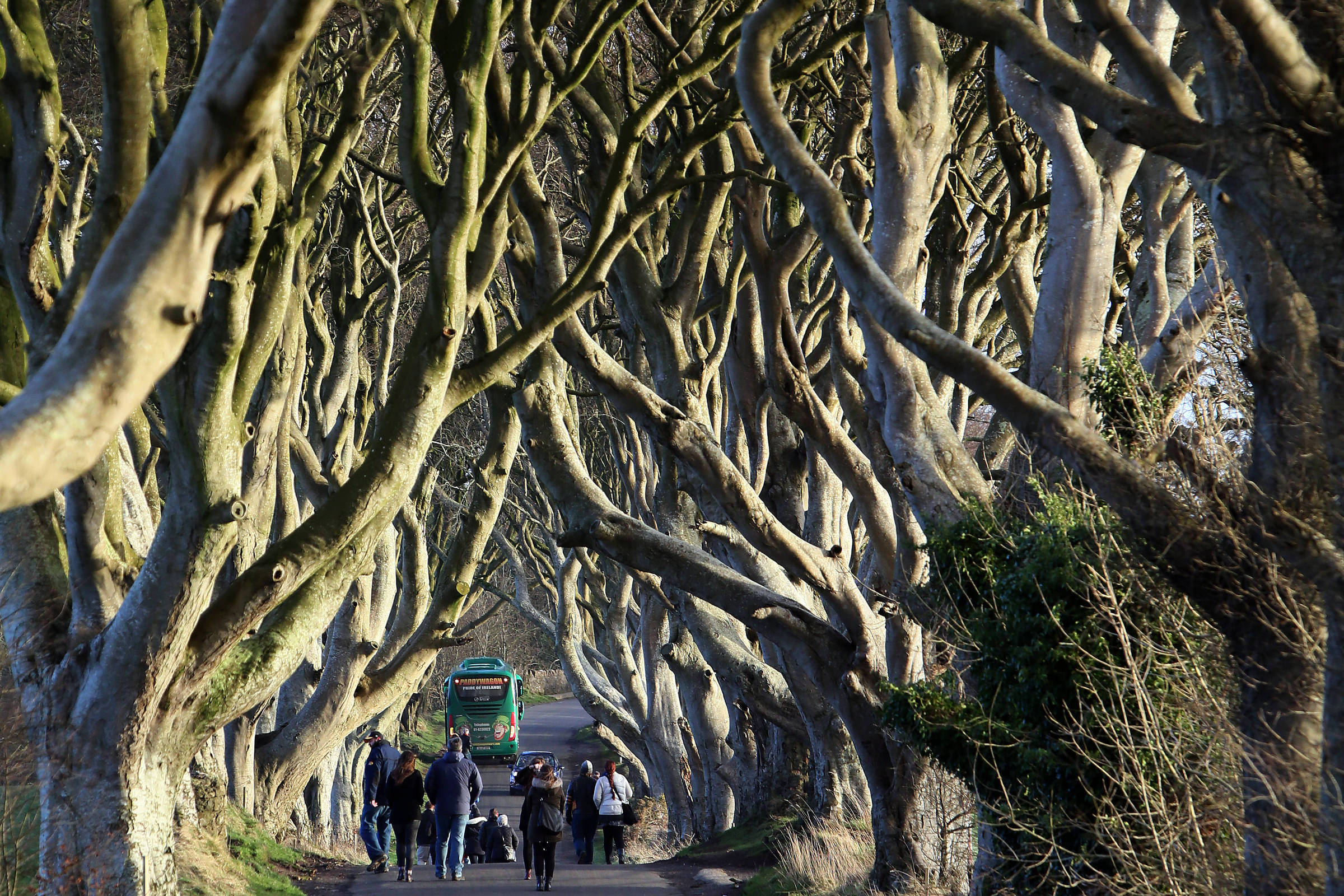 De campos nevados e ilhas rochosas a cidadelas medievais, o reino fictício de Westeros, onde se passa a maior parte da série "Game of Thrones", tem diversos atrativos para turistas do mundo real. E esses pontos estão abertos para visitação, na Irlanda do Norte.
No país, foram filmadas cenas capitais da trama, que está no oitavo e último ano (Croácia, Espanha e Islândia também serviram de cenário).
O visitante pode conhecer os locais sem as batalhas, as mortes violentas e a ameaça de um exército de zumbis, os Caminhantes Brancos, com quem a turma de Westeros terá de lidar nesta temporada. Tudo isso no conforto de um ônibus equipado com uma TV que passa cenas do seriado.
O passeio é acompanhado por guias que foram figurantes no programa. Eles trabalham na Game of Thrones Tours, empresa especializada nas locações do seriado, que oferece passeios saindo de Belfast e Derry, ambas na Irlanda do Norte, e de Dublin, capital da Irlanda.
Logo no começo, os guias avisam: "Esse é um passeio sobre 'Game of Thrones'. Vamos falar da série o tempo todo. Se você nunca assistiu, o que está fazendo aqui?".
Partindo de Belfast, capital da Irlanda da Norte, há duas opções de passeio –ambas custam £ 50 (R$ 253). Uma segue para o norte, em direção às praias rochosas (prepare-se para a ventania) de Ballintoy Harbour, a cerca de uma hora de carro da cidade. O ponto é cenário das Ilhas de Ferro, lar da família Greyjoy, conhecida na série pela habilidade na navegação.
Na região, estão os locais onde Euron Greyjoy (Pilou Asbaek) foi proclamado rei do arquipélago, e a praia de onde seus sobrinhos, os irmãos Yara (Gemma Whelan) e Theon Greyjoy (Alfie Allen) fogem, roubando os barcos da família na sexta temporada.
O roteiro também passa pelas cavernas de Cushendum, onde foi gravada a cena em que a feiticeira Melisandre (Carice van Houten) dá à luz um espírito assassino, na segunda temporada.
Um dos pontos altos do passeio pelo norte é a estrada Dark Hedges, cercada por árvores, um ponto turístico conhecido antes da popularização de "Game of Thrones". Na ficção, Arya Stark, uma das protagonistas, e o ferreiro Gendry usam a via para fugir de Porto Real, capital de Westeros, na primeira temporada.
O único local não relacionado à série na rota é a Calçada dos Gigantes, um dos pontos turísticos mais importantes do país. Trata-se de um conjunto de 40 mil blocos de basalto, declarado patrimônio da humanidade pela Unesco.
Já a outra opção de passeio segue para o sul de Belfast, domínio, na ficção, da família Stark, protetora do Norte do reino. Na propriedade de Castle Ward, que concentra nove locações da série, o visitante encontrará um castelo do século 16 que faz as vezes de Winterfell, lar dos Starks. Por lá também está o local do acampamento de guerra montado pelo filho mais velho do clã, Robb (Richard Madden), na primeira temporada.
A cerca de 12 km de Castle Ward, ficam as ruínas de Inch Abbey, usadas na cena em que Robb é proclamado rei do Norte, no fim da primeira temporada.
Perto do fim, os visitantes fazem uma trilha leve na Tollymore Forest, onde foi filmada (com neve falsa) a primeira cena da série e outra em que os Starks encontram os filhotes de lobo que os acompanharão pelos próximos anos.
Como tudo no passeio, o almoço também é temático. No hotel e restaurante Fullerton Arms, parada para quem opta pelo passeio para o norte, a decoração é inspirada no seriado: mapas e emblemas das famílias mais importantes de Westeros estão espalhados pelas paredes. Dá até para tirar uma foto numa réplica do trono de ferro, símbolo do rei de Westeros.
Já o restaurante The Cuan, do segundo roteiro, tem uma decoração mais modesta. O almoço nos dois estabelecimentos custa em torno de £ 10 (R$ 50). Há várias opções, de hambúrgueres a sopas.
E o passeio não termina sem que os turistas conheçam duas estrelas da série, os cachorros Thor e Odin, da raça husky. Em "Game of Thrones", eles dão vida, desde filhotes, na primeira temporada, a Verão e Vento Cinzento, os lobos dos irmãos Bran e Robb Stark. No mundo real, eles são mansinhos e gostam de carinho.
Pacotes
US$ 330 (R$ 1.283)
3 noites, na Venice (veniceturismo.com.br)
Em Belfast, com café da manhã. Inclui passeio pelos pontos turísticos da cidade e visita ao Titanic Belfast. Preço por pessoa. Não inclui aéreo
R$ 6.307
6 noites, na Maringá Turismo (maringalazer.com.br)
Em Belfast, sem regime de alimentação. Inclui seguro-viagem. Por pessoa. Com aéreo
US$ 2.130 (R$8.285)
7 noites, na Sem Fronteiras (semfronteiras.tur.br)
Na Irlanda (Dublin, Portrush, Donegal e Westport), com visita à Irlanda do Norte, com café da manhã. Inclui passeio a Belfast e a outros lugares da Irlanda, com guia, e traslados. Por pessoa. Sem aéreo
US$ 2.592 (R$ 10.082)
11 noites, na Flot (flot.com.br)
Entre Irlanda do Norte, Irlanda e Escócia ( Templepatrick, Dublin, Cork, Edimburgo, Highlands, Claremorris e Limerick), com café da manhã e seis jantares. Inclui cruzeiro entre Escócia e Irlanda, entrada para atrações e passeios panorâmicos. Preço por pessoa. Não inclui aéreo
R$ 11.231
7 noites, na Flytour Viagens (flytour.com.br)
Entre Irlanda do Norte e Irlanda (Dublin, Dingle, Galway, Londonderry e Belfast), com café da manhã, seis jantares e três almoços (todos sem bebeidas). Inclui passeios panorâmicos pelas capitais, com guia em espanhol, passeios e traslados. Preço por pessoa. Com aéreo
R$ 13.474
7 noites, na Abreu (abreutur.com.br)
Entre Irlanda do Norte e Irlanda (Belfast, Derry, Galway e Dublin), com café da manhã. Inclui passeios e entrada para atrações, 13 refeições, traslados e guia em português. Preço por pessoa. Com passagens aéreas
Fonte: Folha de S.Paulo