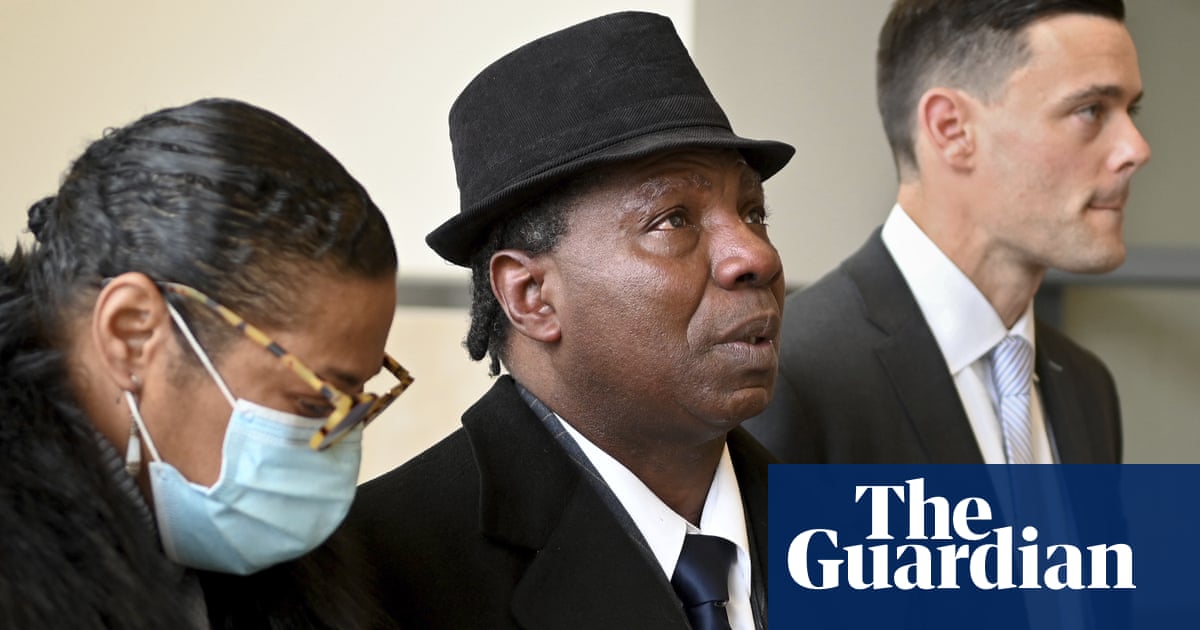 Anthony Broadwater, who served 16 years in prison for the 1981 rape of the author Alice Sebold but was exonerated last year, has filed a $50m wrongful conviction lawsuit against New York state.
Broadwater, 61, was cleared in November of his conviction for the rape after a re-examination of the case found serious flaws in his arrest and trial.
He was convicted of raping Sebold, then an 18-year-old student at Syracuse University, in a tunnel near the college campus.
In 1999, Sebold published Lucky, an account of her ordeal in which she described seeing a Black man in the street months later who she believed to be her attacker. Broadwater was arrested, but despite Sebold failing to identify him in a lineup, authorities put him on trial.
Sebold identified Broadwater as her rapist on the witness stand. He maintained his innocence and was denied release five times because he refused to admit any guilt. When he was released, the year Lucky was published, he was required to register as violent sex offender.
A re-examination of the case found serious flaws in Broadwater's arrest and trial, including microscopic hair analysis that tied him to the crime but was later deemed to be unreliable.
The unraveling of Broadwater's conviction came five months after Timothy Mucciante, the producer of planned film adaptation of Lucky, developed doubts about Broadwater's culpability.
Mucciante hired a private investigator, Dan Myers.
"After a conversation of over an hour with Anthony Broadwater, I knew this guy was innocent," Myers, a 20-year police veteran, told the Washington Post.
In November, the conviction was vacated.
The Onondaga county district attorney, William Fitzpatrick, said: "I'm not going to sully this proceeding by saying, 'I'm sorry.' That doesn't cut it. This should never have happened."
Broadwater said he "never, ever, ever thought I would see the day that I would be exonerated".
According to the new lawsuit, Broadwater "always maintained his innocence – from the investigation, through trial and on appeal, while incarcerated, after his release, and up to today".
The lawsuit also says: "He dutifully sought to overturn his conviction on at least five occasions in the decades following his conviction."
The case posed questions about the inequities of the US criminal justice system, and how the word of a white woman was taken over that of a Black man.
"He was smiling as he approached," Sebold wrote in her memoir, of recognising her attacker. "He recognised me. It was a stroll in the park to him; he had met an acquaintance on the street. 'Hey, girl,' he said. 'Don't I know you from somewhere?' I looked directly at him. Knew his face had been the face over me in the tunnel."
Lucky became a bestseller. Sebold went on to write The Lovely Bones, about the rape and murder of a young girl, a success that made her famous.
After Broadwater's conviction was overturned, Sebold apologised, saying she struggled with the role she played "within a system that sent an innocent man to jail".
As a "traumatised 18-year-old rape victim", she said, she had chosen to put her faith in the legal system.
"My goal in 1982 was justice – not to perpetuate injustice," she said. "And certainly not to forever, and irreparably, alter a young man's life by the very crime that had altered mine.
"I will also grapple with the fact that my rapist will, in all likelihood, never be known, may have gone on to rape other women, and certainly will never serve the time in prison that Mr Broadwater did."
In a statement, Broadwater said: "I'm relieved that she has apologised. It must have taken a lot of courage for her to do that. It's still painful to me because I was wrongfully convicted, but this will help me in my process to come to peace with what happened."
Sebold's publisher, Scribner, said Lucky would be withdrawn and subject to revision. The film adaptation was abandoned.
Source: The Guardian