A mother whose baby was stillborn while she was seriously ill in hospital with Covid-19 has urged people to get their vaccine to save themselves the "agony" of becoming severely unwell, PA reports.
Rachel, 38, whose surname was not given, was so ill she did not realise she had given birth to her son Jaxon, at 24 weeks, in August.
She had gone to get her vaccine while pregnant last year, but said there had still been uncertainty from experts at that early stage in the rollout over whether expectant women should have it.
She said she and her family were "devastated" by their loss, and urged people to take up the offer of jabs.
She said:
I did initially go to get the vaccine, but at the time the advice was not to have it. I thought I'd have the vaccine when I'd had the baby, but it wasn't meant to be.
As more data has emerged showing the vaccine to be safe, there have been repeated calls for pregnant women to get jabbed.
Earlier this week, the Department of Health and Social Care cited statistics from the UK Obstetric Surveillance System which it said showed 96.3% of pregnant women admitted to hospital with Covid symptoms between May and October were unvaccinated, a third of whom required respiratory support.
Rachel, from Bilston in Wolverhampton, was in a coma and in hospital for three and a half months after contracting the virus.
She said she would encourage everyone eligible to get vaccinated.
I would say take it – it's a two-minute thing that can save months of agony if you end up like I was.
Speaking about her loss, she said:
I didn't actually know I had given birth. I was on drugs so they wanted to tell me when I wasn't sedated, and the obstetrician informed me a few days later.

My emotions were disbelief – one minute you're having a scan and a gender reveal, naming the baby and getting excited, and then there was this sudden loss.

I was only able to see him once. Normally I'd have been able to spend a lot more time with him and to hold him. But I didn't get to do that because of the circumstances.
She said things have been difficult for her partner and her 18-year-old son.
"We're all devastated at our loss," she said. "We were all very excited at this new life then we were left with nothing."
Rachel thanked staff at both New Cross Hospital's integrated critical care unit (ICCU) and Glenfield Hospital in Leicester, for their care.
The Chinese capital, Beijing, has reported its first locally transmitted infection of the Omicron variant, according to state media, just weeks ahead of its staging of the Olympic Winter Games.
Lab testing found "mutations specific to the Omicron variant", Pang Xinghuo, deputy director of the Beijing Municipal Centre for Disease Prevention and Control, told a news briefing.
Officials have sealed up the infected person's residential compound and workplace, and collected 2,430 samples for testing from people linked to the two locations, a Haidian district official said.
The detection of the Omicron variant in Beijing comes as cities across the country ratchet up viral vigilance in the run-up to the Winter Olympics, due to start on 4 February.
Authorities have also warned that Omicron adds to the increased risk of Covid transmission as more people travel across the country and return to China from overseas for the lunar new year holiday starting at the end of the month.
Many local governments have advised residents not to leave town unnecessarily during the holiday, while dozens of international and domestic flights have been suspended.
Aside from Beijing, China has reported locally transmitted infections of the Omicron variant in at least four other provinces and municipalities – in the northern city of Tianjin, the central province of Henan, the southern province of Guangdong and the northeastern province of Liaoning. However, the total number Omicron cases remains unclear.
He Qinghua, an official at the National Health Commission (NHC), said in a briefing earlier on Saturday that the Omicron variant was also detected in Shanghai, without specifying the case count. He did not say whether the variant had been found locally or among travellers from overseas.
He said 14 provincial areas in China had found the Omicron variant in infected individuals arriving from overseas, without naming the regions.
In a statement on Saturday, the NHC reported 165 new confirmed coronavirus cases for 14 January, down from 201 a day earlier.
Of the new infections, 104 were locally transmitted, according to a statement by the NHC, compared with 143 a day earlier.
The new locally transmitted cases were in Henan, Tianjin, Guangdong, Shaanxi and Zhejiang.
China also reported 25 new asymptomatic cases for 14 January, down from 42 infections a day earlier. China classifies asymptomatic cases separately from confirmed cases.
There were no new deaths, leaving the death toll at 4,636.
As of 14 January, mainland China had 104,745 confirmed cases.
The actor Jamie Dornan has revealed he was stuck in hotel quarantine in Australia when he received the news that his father, Jim, had died from Covid after being admitted to hospital for a routine knee operation.
Dornan, 39, most famous for the film Fifty Shades of Grey and the crime drama television series The Fall, found himself on the other side of the world with four days of his quarantine remaining when his father died last March, and was unable to travel back to his native Northern Ireland.
Dornan was required to isolate in Australia before filming BBC drama The Tourist, in which he plays a man who has no idea who he is and why he has been left stranded in Australia's outback.
Losing his father made 2021 "the worst year … and the hardest" of his life, Dornan told the Sun.
"It's been a brutal time for lots of reasons and for lots of people. We're all just trying to ride it out and come out the other side – and hope we've got our heads intact," he said.
A renowned obstetrician and gynaecologist at the Royal Victoria hospital in Belfast, Jim supported his son's pursuit of an acting career and helped him navigate the loss of his mother, Lorna, from pancreatic cancer when he was 16, telling him: "Don't let this be the thing that defines you."
"I've been subjected, early on in my life and now, to a lot of pain and loss," Dornan said.
The full piece is here: Jamie Dornan was stuck in Australian quarantine when dad died of Covid
My colleague Clea Skopeliti has this round-up of the Conservative MPs who have so far called for Boris Johnson to resign, including the senior Tory MP Tobias Ellwood, who said this morning the prime minister must "lead or step aside".
A quick snap from Reuters reporting that Turkey will no longer require unvaccinated individuals to take a PCR test before using planes, buses or other transportation, or before attending events such as concerts, plays or movies.
Citing the interior ministry, the state-owned Anadolu Agency said on Saturday that unvaccinated civil servants, private-sector employees and school personnel will also not be required to take a PCR test.
Turkish Airlines CEO, Bilal Ekşi, said separately on Twitter that the carrier will not require PCR tests on domestic flights.
Indonesia reported 1,054 new Covid-19 cases on Saturday, the highest daily increase in three months, as the government braces for a new wave driven by the Omicron variant.
The world's fourth most populous country, which started its vaccine booster programme for the general public this week, had a devastating second wave of infections in July, when the Delta variant was spreading rapidly.
Daily case numbers dropped to around 200 by December, before rising this month amid reports of local transmission of the Omicron variant, Reuters reports.
"Local transmission has been found and Jakarta has become an infection cluster," health minister Budi Gunadi Sadikin said in a statement on Saturday.
"We need to coordinate with regional government to tighten mobility and strengthen health protocols, (give) booster vaccine shots and strengthen health facilities."
He did not elaborate on what restrictions local authorities might impose. Officials usually review pandemic-related measures each Monday.
Indonesia detected its first case of the more contagious Omicron variant on 16 December, with officials saying infection rates could peak in February.
Although Covid infections in Denmark are at their peak currently, the number of patients in intensive care in the country fell to the lowest level in over a month on Friday.
As of Friday morning, 60 Covid patients in Denmark were admitted to intensive care wards, according to official data from the State Serum Institute (SSI). The number is the lowest since 11 December.
Daily totals for new infections have ranged between 22,000 and 25,000 this week after a dip in numbers last weekend, The Local reported.
At the end of December, Denmark's daily infection tallies exceeded 15,000 for the first time.
According to the Reuters Covid-19 Tracker, the daily average of infections in the country is higher than ever and still rising, with currently 18,955 new infections reported on average each day.
Denmark has recorded 3,468 coronavirus-related deaths since the pandemic began.
According to the Danish Health Authority, as of Friday morning 80% of the population have had at least two Covid-19 vaccines, and 55.8% a third jab.

Coronavirus cases appear to be "plateauing" in parts of the UK, a government health advisor has said.
Dr Susan Hopkins, the UK Health Security Agency (UKHSA) chief medical adviser, said the number of infections were flattening in London, the south-east and east of England.
Dr Hopkins told BBC Radio 4's Today programme cases were still relatively high, with one in 15 people in England infected and one in 20 elsewhere in the UK, but that there was a "slowdown" in hospital admissions.
She said:
We see that infections are plateauing in the community, which is good, in London and the south-east and the east of England.

There are still risings, but much slower in the northern parts of the country.

All of that means we are seeing a slowdown in the number of admissions to hospital but they are slowing down rather than reversing at the moment, so there are still more than 2,000 admissions to hospital across the UK, and nearly 2,500 yesterday.
Hopkins said hospitals had been able to discharge patients "faster" due to Omicron being milder than previous variants but that, with around 15,500 people in hospital last week, the NHS remains under "a lot of pressure", with some trusts "unable to do much of their elective care", a situation exacerbated by staff absences.
Hi all, I'm taking over for the next hour or so, if there's anything you'd like to flag feel free to contact me on Twitter @JedySays or via email.
Prof Linda Bauld, a professor of public health at the University of Edinburgh and chief social policy adviser to the Scottish government, has said Omicron cases appear to be "stabilising", PA reports.
She told BBC Breakfast on Saturday:
The cases, if we look at them, are going down by over 20%. In fact, yesterday I think was the last day, the first day for a while we've had less than 100,000 cases so things seem to moving in the right direction.
However, she added that the number of patients in hospitals was still "very high" and will need to wait for an accurate picture.
Prof Bauld explained that while there had been a rise in Covid deaths in the last week, the figure was a "lagging indicator" and hoped they would continue to decline.
She said:
I think we've got more data this week that suggests more optimism, and let's hope, as we continue, that trajectory will be consistent and we can feel we've got through what's been a really, really tough period.
Dr Chris Smith, a consultant virologist and lecturer based at Cambridge University, said current coronavirus data gives him "great cause for optimism", PA Media reports.
Smith told BBC Breakfast:
The number of people who are going into intensive care or are on mechanical ventilation beds is actually dropping. It has remained flat.

Now that could be because Omicron hasn't had a chance to bite yet and there will be an uptick later.

On the other hand, it may be that we are following the trajectory of South Africa, which we seem to be so far, which is they saw a much fewer translation of hospital cases into intensive care beds cases. So let's hope that carries on.

This gives me great cause for optimism because I think we are getting to a point now where thanks to vaccination, where 96% of the country we're told now have antibodies against the coronavirus, thanks to vaccinations thanks to infection rate reinforcing our immunity we are getting to a point where the population have sufficient immunity that we can fend off the infection when we get it much better than we could previously.

So we don't see that strong connection of cases turning into consequences.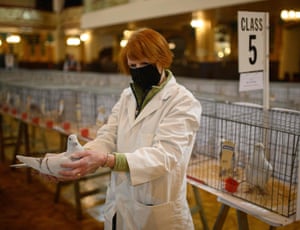 If it is a political truism that a cabinet is all smiles when the ruling party is well ahead in the polls, it is equally the case that nothing highlights ministerial ambitions more than a vulnerable prime minister, write Peter Walker and Heather Stewart.

With Boris Johnson on the ropes over lockdown party allegations, all eyes are now on his cabinet colleagues and other senior Tories.
Most have offered him lukewarm support – so far. But will any break cover over the weekend, particularly if there are any new revelations?
From Rishi Sunak to Michael Gove, the Guardian looks at the senior Tories to watch: Which of Johnson's colleagues will be first to publicly withdraw support?
The southern Chinese city of Zhuhai suspended public bus routes on Saturday after announcing it had detected at least seven cases of the Omicron variant and warning residents not to leave the city, AFP reports.
The coastal city of Zhuhai, which borders the gambling hub Macau, said late on Friday that Omicron had been detected in one mildly ill and six asymptomatic patients, after launching mass testing due to a case in a neighbouring city.
China is battling a spate of coronavirus outbreaks, including several from the highly transmissible Omicron variant, as the country steps up vigilance against the virus ahead of the Beijing Winter Olympics next month.
Millions of people across the country have been ordered to stay at home in recent weeks, with scores of domestic flights cancelled and factories shut down.
Zhuhai officials have asked residents to avoid leaving the city "unless necessary", with those who are required to show negative Covid test results within the past 24 hours.
The city had launched mass testing for its population of 2.4 million people on Friday after a Covid case was detected in neighbouring Zhongshan earlier in the week.
Businesses including beauty salons, card rooms, gyms and cinemas were ordered to close on Thursday, with officials announcing the suspension of public bus routes in parts of the city.
China has kept Covid cases relatively low throughout the pandemic with its zero-tolerance strategy of immediately ordering mass testing and strict lockdowns when infections are detected.
But the fast-spreading Omicron has tested that strategy in recent weeks, appearing in the port city of Tianjin close to Beijing before spreading to the central city of Anyang.
National Health Commission spokesman Mi Feng told reporters on Saturday that the country faced a "twofold challenge" from both the Delta and Omicron variants.
He warned that regions that had not yet seen outbreaks "must not relax" their prevention measures and "strengthen risk auditing".
The country reported 104 domestically transmitted Covid cases on Saturday.
Source: The Guardian